Carrier-Belleuse, Albert-Ernest (1824-87; French)
The Esquire and The Knight
Bronze statuettes, sizes unknown
Presented by John King, Esq., unknown date (by 1894)
Unidentified; present location unknown
Little seems to be known about this pair of figures, both listed in NGV 1894 but not in NGV 1905, suggesting that they may already have left the collection by that date – or perhaps simply that they were not on display in 1905. In the 1894 catalogue, they are listed as by A. Carrier, and hence were probably early works, since the sculptor signed himself in that style prior to 1868, thereafter using his full name.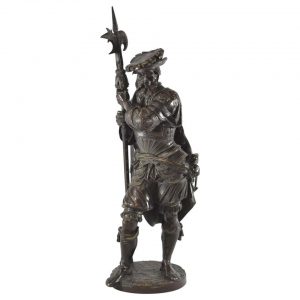 Comparable bronzes by the artist appear occasionally on the international market, including a "lansquenet with halberd" and an armed soldier, apparently a pair, on sale recently.
[comparative photo: Lansquenet with Halberd (on sale recently)]
Refs.
NGV 1894, p.131 (VI.Rotunda, nos.20 and 23); not listed in NGV 1905
The man with halberd and soldier mentioned, measuring 57.12 and 45.72 cm high respectively, are listed as available from a US seller for just under A$4000 each: https://www.1stdibs.com/creators/albert-ernest-carrier-belleuse/furniture/decorative-objects/sculptures/ (accessed 26 Sept.2018)