Dawe, George (1781-1829; English), after (?) Raeburn, Henry (1756-1823; Scottish)
Lord Alexander Abercromby (1800)
Mezzotint
Acquired by 1894
Present location unknown
This print, catalogued in NGV 1894 and 1905, does not appear in the current NGV or SLV catalogues.
NGV 1905 indicates Raeburn as the source. However, another impression, in the National Portrait Gallery, London (reproduced below), is listed as after an unknown artist.
Abercromby (1745-95) was a Scottish lawyer and essayist.
[photo reproduced below: National Portrait Gallery impression]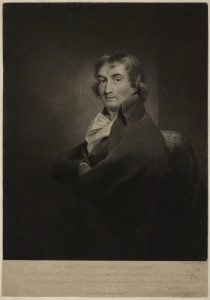 Refs.
NGV 1894, p.107 (V.Buvelot Gallery, 2nd bay, no.23); NGV 1905, p.119 (V.Buvelot Gallery, 2nd bay, no.13) 
For the impression shown here (NPG D7130, purchased 1966), see http://www.npg.org.uk/collections/search/portraitLarge/mw41140/Alexander-Abercromby-Lord-Abercromby?LinkID=mp50181&role=sit&rNo=0