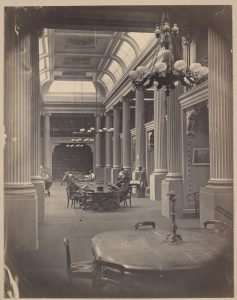 This photograph was presumably taken in the 1860s or 1870s, and cannot date from any earlier than 1862, since it includes on the balcony at the back the Burmese Buddha acquired in that year: see now  introduction to Asian art, with a detail of this photo.
Housed on the first floor of the Melbourne Public Library's first building, the hall was for many years the original reading room of the library, first opened in 1856. After the south wing was added, the extended space was named after Queen Victoria, and officially opened on her birthday (24 May) in 1859, with a further extension included with the addition of the north wing, completed in 1864.
After the library's new dome (La Trobe Reading Room) opened in 1913, Queen's Hall housed the Industrial and Technological Museum (1915-1970s), and then the Art, Music and Performing Arts Library (1975-2003). Following extensive restoration, it re-opened in Dec.2019 as The Ian Potter Queen's Hall.
Refs.
For the albumen silver photograph reproduced here, one of a pair, refer SLV catalogue (H3971), dated c.1856-1900 
For historical details on the hall, see https://www.slv.vic.gov.au/visit/our-magnificent-spaces/ian-potter-queens-hall (accessed 22 June 2020)