[photo: Venice & Murano Glass & Mosaic Company: Candelabrum (c.1880), purchased 1880 (NGV 283A.a-w-D1R); as shown in the 2019 NGV exhibition 'Liquid Light']
Introduction
NB It should be emphasized that this is a preliminary account of Melbourne's pre-Felton holdings of Decorative Arts material, pending more systematic analysis in the future (by the present author and/or others).
Before 1905, glass, ceramics, metalwork etc. did not appear in the catalogues of the NGV, mainly because, until 1958, almost all this material was housed in the Industrial and Technological Museum or the Museum of Art (separate units within the Public Library). However, a number of pieces noted below were listed in the acquisition registers and annual reports of the NGV, reflecting ambivalence and/or indecision about the status and categorization of much of this material, a situation that continued well into the 20th century.
Nevertheless, given changing museological attitudes, and the subsequent evolution of the NGV into a more varied collection, with a strong decorative arts component, these works are logically included in the present survey of the "before Felton" collection.
oOo
Terence Lane, formerly Curator of Decorative Arts at the NGV, notes that a substantial amount of glass and ceramics was bought for the Melbourne collection during the later 19th century, much of it contemporary work, purchased directly from the manufacturers (see Lane as noted under References, below). The first Annual Reports of the NGV (1870-80) contain no mention of decorative arts, but this changes in 1881, with detailed information on purchases and donations from the 1880-81 Melbourne International Exhibition. Significant purchases were also made at the 1888 Centennial exhibition in Melbourne.
Lane also observes that Melbourne's early holdings of decorative arts were significantly depleted by a 1943 auction (paralleling the cull of 19th-century sculpture made at the same time: see Introduction). Nevertheless, surprisingly extensive groups of objects bought before 1905 still remain in the collection, showing just how large it was originally. Lane also notes that, "purchases in the latter part of the 19th century included large amounts of reproductive material" (ABV 1980; see also further comments on ceramics and metalwork, below).
Notable acquisitions during the pre-Felton era included:
1862: major gift by F.G.Dalgety: Meissen, Spode, W.T.Copeland etc., and some Roman and Chinese objects
1871: Murano glass: group of just over 100 objects (see details below)
1881: substantial numbers of glass and ceramic objects purchased or donated from the 1880/81 Melbourne International Exhibition: Doulton, Murano, Villeroy & Boch, Webb etc.
1884: Derby Porcelain examples purchased
1885: group of ceramic pieces bought on the advice of Frederick Leighton: see under Brannam, Elton, William De Morgan (as listed below)
1886: collection of French glass by Brocard and others, purchased in Melbourne from Thomas Webb & Sons (some de-accessioned later)
1895: Della Robbia Pottery pieces acquired directly from Harold Rathbone
1895: large group of carved wooden panels (including some copies)
1895-96 and 1904: several collections of Italian lace and embroidery were acquired (and some lace from England etc.)
Pre-Felton decorative arts acquisitions may be grouped helpfully under the following broad headings.
Pottery and ceramics
The majority of pre-Felton decorative arts acquisitions were made in this area, including some good early European examples by Meissen and others. English ceramics and pottery were collected in considerable numbers, notably groups of Derby and Wedgwood, and a large collection of Minton pieces (of variable quality, however, with a number of reproductions). Good "art pottery" pieces by Doulton, acquired in the 1870s and early 1880s, were joined later by the William De Morgan tiles and earthenware acquired in 1885, part of a group of British "Paintings on China" selected by Sir Frederick Leighton for the Melbourne collection. Unfortunately, substantial quantities of good pre-Felton ceramics acquisitions appear to have been auctioned off in the large-scale cull carried out during the 1940s and 50s.
Various reproductions were also purchased at various times during the pre-Felton period, especially during the 1890s. See e.g. AR 1897, p.29, listing over 30 reproductions of 15th– to 17th-century Italian majolica, none of which appears to have been retained in the collection.
Pre-Felton acquisitions included (linked entries provide further details):
Dale Hall pottery (Longport, Staffordshire): Jug 1850 (parian). Gift, 1887. NGV 529-D1M [ill.; as made by T.J. & J.Mayers]
De Morgan: see William De Morgan & Co. [DA]
Fürstenburg China Factory (est.1747): Figurine of a miner, c.1760. Donated by F.G.Dalgety 1862. NGV 505-D1M [ill.]
Manifattura Levantino (Albissola, Liguria): Pill jar, maiolica, c.1799. Purchased 1893. NGV 1705-D1A [ill.]
Meigh & Son (Hanley, Staffordshire, est.1805): Jug, earthenware, c.1855. Gift of Mrs J.Levy 1898. NGV 408-D2 [ill.]
Rubenstein Porzellanfabrik (est.1783): Teapot, Sugar box and Milk jug. Purchased 1874. NGV 517 to 519-D1M [ill.]
Royal Saxon: see Meissen Porcelain [DA]
Sèvres Porcelain Factory (est.1756): Egg Vase. Purchased 1889 (?). Loc? (listed in the NGV's unpublished list of acquisitions, but possibly only on loan? – see AR 1889, p.44)
Spode (Stoke-on-Trent, est.1770): Amphora. Donated by F.G.Dalgety 1862. NGV 444-D2 [ill.]
Villeroy & Boch (est.1748): Ewer, Vase and Plaque, all c.1880. Purchased 1881. NGV 403 to 405-D1M
Vincennes Porcelain Factory: Two-handled cup and saucer, 1754. Bought with funds donated by F.G.Dalgety 1862. NGV 507.a-b-D1M
Worcester: see Royal Worcester Porcelain Factory [DA]
Zsolnay Porcelain Manufacture (Hungary): The Challenge (platter, 1881-85). Purchased 1885. NGV 537-D1M [ill.; decoration by Keleman Kaldeway]
Glass
The purchase of a large group of Venetian pieces in 1871 laid a strong foundation for Melbourne's glass collection, as demonstrated recently by the 2019 NGV exhibition "Liquid Light," which showcased a significant number of these early acquisitions, and others added in 1874, 1876, 1881 and 1885. The large group purchased directly from the Venice and Murano Glass and Mosaic Company exhibit at the Melbourne International Exhibition in 1881 is a strong representative collection of later 19th century Venetian "revivalist" glassware.
Other significant pre-Felton acquisitions included several pieces by Thomas Webb & Sons (purchased from or donated by the producers in 1881), French glass by Brocard and others in 1886, and three pieces of Tiffany glass in 1897 (no longer in the collection).
Pre-Felton acquisitions included the following (linked entries provide further details):
Unknown 18th-century Dutch glassmaker: Bottle. Purchased 1876. NGV 107-D1R [ill.]
Unknown 18th-century English glassmaker: Wine glass with incised-twist stem, c.1750. Purchased 1871. NGV 61-D1R [ill.]
Unknown 18th-century English glassmakers: 6 assorted wine glasses, all c.1750. Purchased 1876. NGV 104 to 106-D1R and 108 to 110-D1R [all reproduced]
Unknown 19th-century German glassmaker: Goblet, c.1870. Purchased 1874. NGV 321-D1R [ill.]
Metalwork, enamel etc.
Apart from the acquisition of various weapons and sets of armour (not listed here), collecting in this area was piecemeal and sporadic, reflecting uncertainty about how to categorize decorative arts material during the pre-Felton period (see introductory comments above).
The other problem that bedevilled Melbourne's early collecting in this particular area was the taste for reproductions, especially after 1880. In the 1881 Annual Report, for example, the list of purchases from the Melbourne International Exhibition includes, under Metal Work, reproductions of the "Tresor de Hildesheim" and "Tresor de Bernay" (famous medieval collections), as well as reproductions of Cellini and various antique originals. Similar entries recur in subsequent reports on acquisitions and stock-book entries. The 1895 Annual Report includes a long list of plaster reproductions of works in silver, bronze and other metals, from originals in the V&A, Vienna, etc. (Much of this material was later de-accessioned.).
Melbourne's systematic collecting of original material in this field did not occur until after the John H.Connell Gift (1914).
Notable pre-Felton acquisitions are noted below (see linked entries for further details; see also Asian Art).
Textiles, lace etc.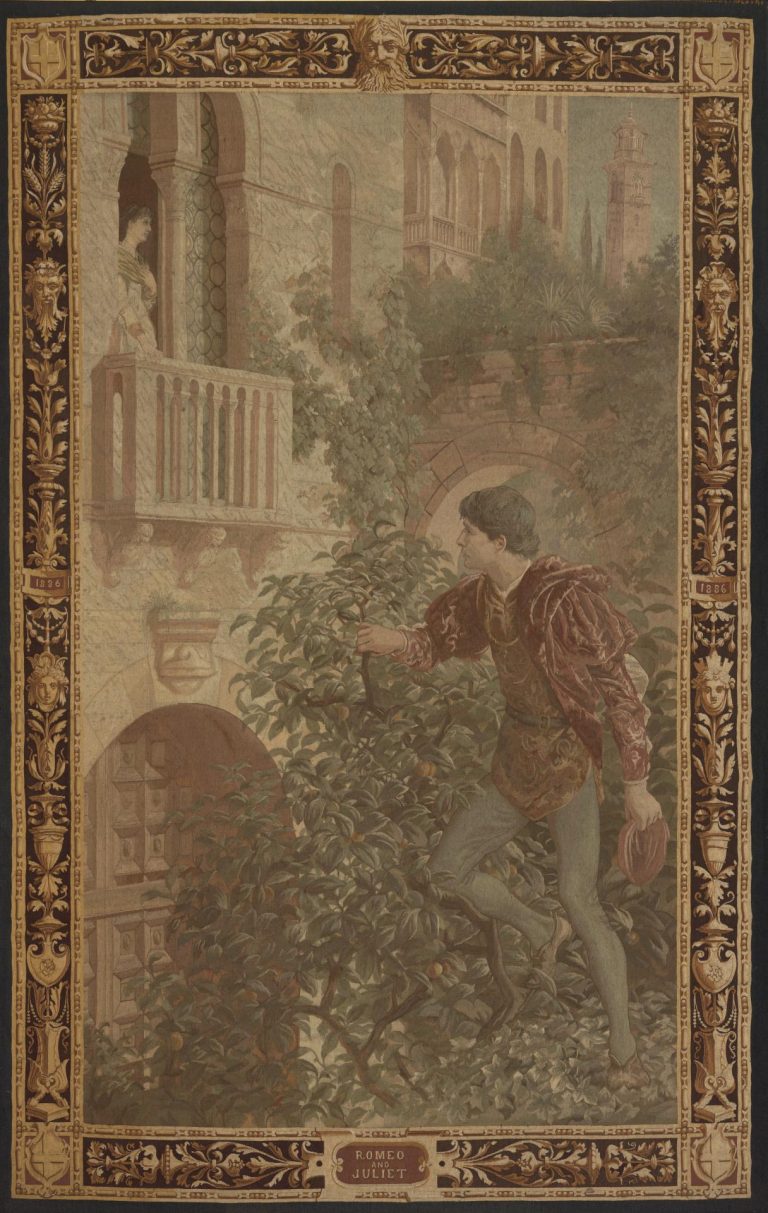 [photo: Romeo & Juliet tapestry, acq.1889 (NGV p.169-D1M)]
Melbourne's collecting in this area was sketchy in the pre-Felton period, and in fact for many years after that. Costume and textiles were identified by the NGV as a separate area for collecting only in 1981, despite some significant acquisitions in the preceding decades, and the present Department of Fashion and Textiles was only established in 1995 (for a brief overview of the development of the present collection, see Gerard Vaughan's Foreword to Robyn Healy & others, Fashion and Textiles in the International Collections of the National Gallery of Victoria, NGV, 2003).
Pre-Felton acquisitions included the following (see also Asian Art):
Royal Windsor Tapestry: Romeo and Juliet tapestry (1886). Purchased from the Centennial International Exhibition, 1889, for £225. NGV p.169-D1M [ill.]. This substantial work, measuring almost 3 by 2 metres, was displayed in the Buvelot Gallery (NGV 1894, p.125: 8th bay, no.13) and the Vestibule (NGV 1905, p.105, no.3): see photo above
Italian lace & embroidery samples (16th to early 20th centuries). Purchased 1895-96 (see also AR 1895, p.26 and AR 1896, p.24). A number of these are extant in the NGV (266-D2 to 304-D2, 317-D2 to 348-D2; several are illustrated)
English lace samples. Purchased 1904. NGV 507A to F-D2 [ill.]. According to a label on the first of these sets of samples, they were "collected by Miss Sharp"
"Collection of 99 specimens of the various styles of Needle point, and Pillow Lace, exemplifying Italian, French, Flemish, English, Irish, Russian, and Maltese Work of the 16th and 19th centuries" (AR 1904, p.26). Most of these appear to be extant in the NGV (508-D2 to 596-D2; several illustrated)
Furniture and wooden panels; paintings on glass; miscellaneous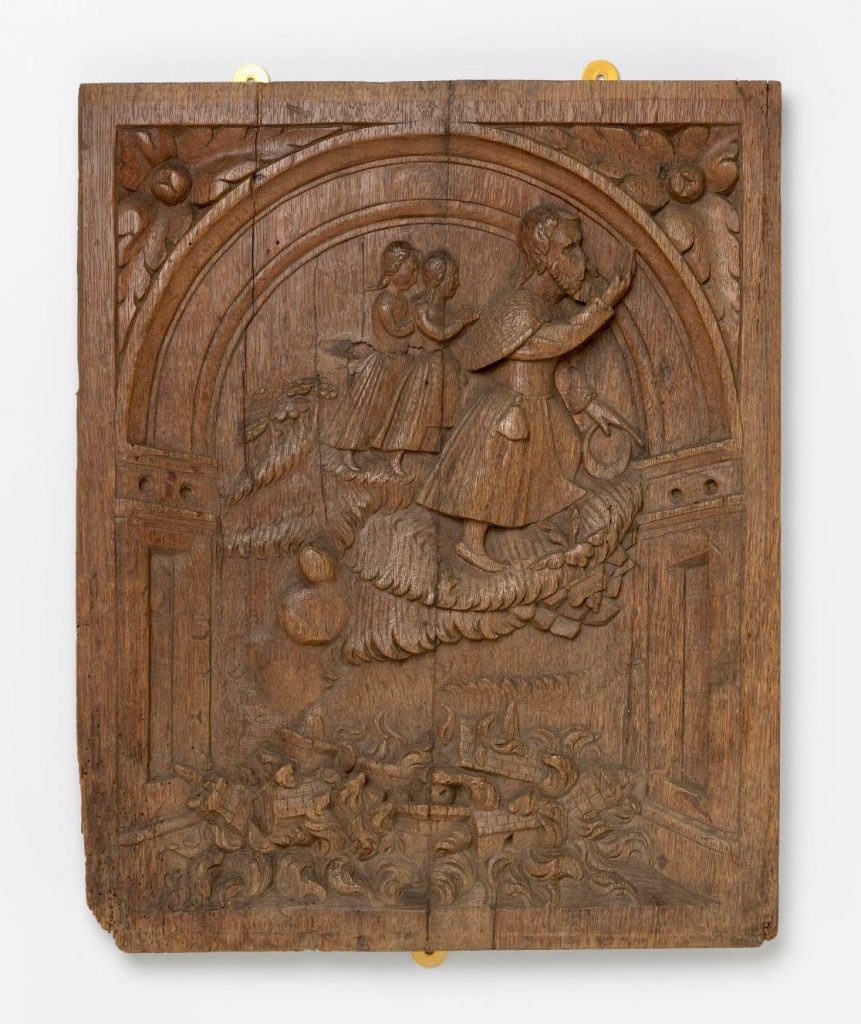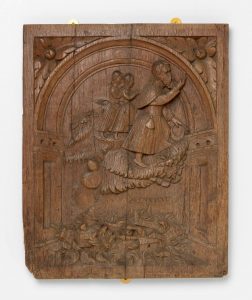 [photo: English carved panel, early 17th century. Purchased 1895 (NGV 51-D2)]
The NGV's Annual Report for 1895, under purchases of "Carvings," lists a considerable number of French and English wooden panels and ornaments, mostly 16th and 17th-century in date; some are noted as plaster reproductions, and others as copies. Almost 200 individual items are listed in the NGV's unpublished list of pre-Felton acquisitions (under 1895), and many of them still appear to be in the collection, identified in the gallery's online catalogue as frame mouldings, brackets, finials, panels etc., and dated variously from the 16th to 18th centuries. Further investigation of this group of works is obviously needed. A few figurated pieces are included, e.g. the oak panel reproduced here, showing Lot and his daughters.
Several pieces of furniture are also listed under purchases in AR 1895, including a 16th-century French chest still in the NGV (see list below). Further research may identify similar examples acquired during the pre-Felton period.
Examples of pre-Felton acquisitions in these areas are listed below:
Furniture and wooden panels
English wood panels etc.  (16th -18th century). Purchased 1895
French 16C Corbel etc. – see previous list
Carved Chest, French, 16th century. Purchased 1895. NGV 186-D2 (also noted in AR 1895, p.26)
Chair, Flemish (date unknown). Purchased 1895. Loc? (also noted in AR 1895, p.26)
Cabinet (details unknown). Donated by Justice Fellowes 1876. NGV 1501-D1R
Paintings on glass
Unknown 16th-century artist: Glass painting with heraldic subject, dated 1524. Purchased 1887. NGV 372-D1R [ill.]
Wannewitsch, Hans Jorg (Swiss, 16th century): Glass painting with heraldic subject, dated 1579. Purchased 1887. NGV 371-D1R [ill.]
Miscellaneous
English, 18th century: Mourning pendant (1782) and Mourning ring (1776). Gift of E.Howitt 1893. NGV 873 & 874-D1M [both ill.]
oOo
Refs.
Key references for the NGV's Decorative Arts holdings are: 
Terence Lane, "The development of the collections of decorative arts in the National Gallery of Victoria," Art Journal of Victoria 21 (1980) [available online]
Terence Lane & others, Decorative Arts from the Collections of the National Gallery of Victoria, NGV, 1980 
Geoffrey Edwards, Art of Glass: Glass in the Collection of the National Gallery of Victoria, NGV, 1998 
Christopher Menz & Margaret Legge, Decorative Arts in the International Collections of the National Gallery of Victoria, NGV, 2003