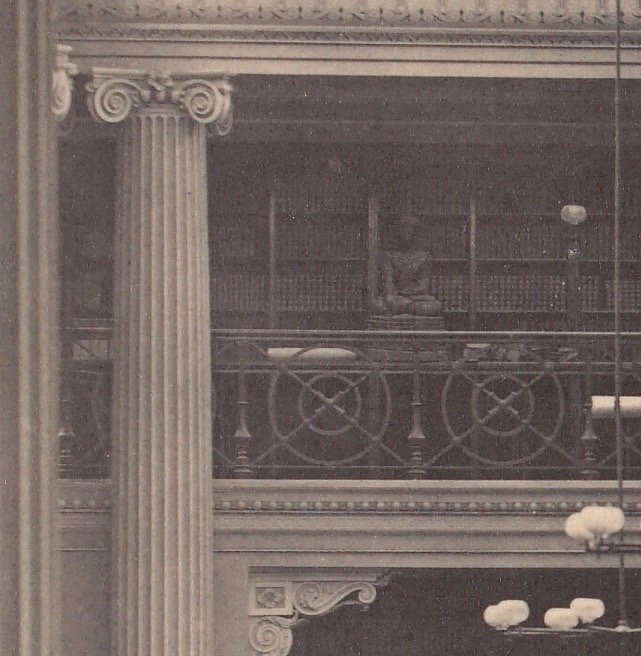 [photo: detail, photo of Queen's Hall, Melbourne Public Library, 1862 or later (SLV H3971)]
Introduction
One of the early photographs of the Melbourne Public Library includes a particularly intriguing detail (reproduced above). Dimly visible in the background, presiding serenely over the carefully posed gentlemen at their desks, is a statue – not of Sir Redmond Barry, or Queen Victoria, or a Christian deity, but the Buddha.
This sculpture is documented as acquired for Melbourne in 1862, and listed in the 1865 catalogue of casts and statues, where it is identified as a wooden Buddha, or Sakya, from Rangoon, Burma. The statue is no longer in the collection, but it provides an intriguing insight into the taste informing Melbourne's first collections, and is in fact one of a number of Asian works acquired or donated during the first two decades of the development of the library's art collection.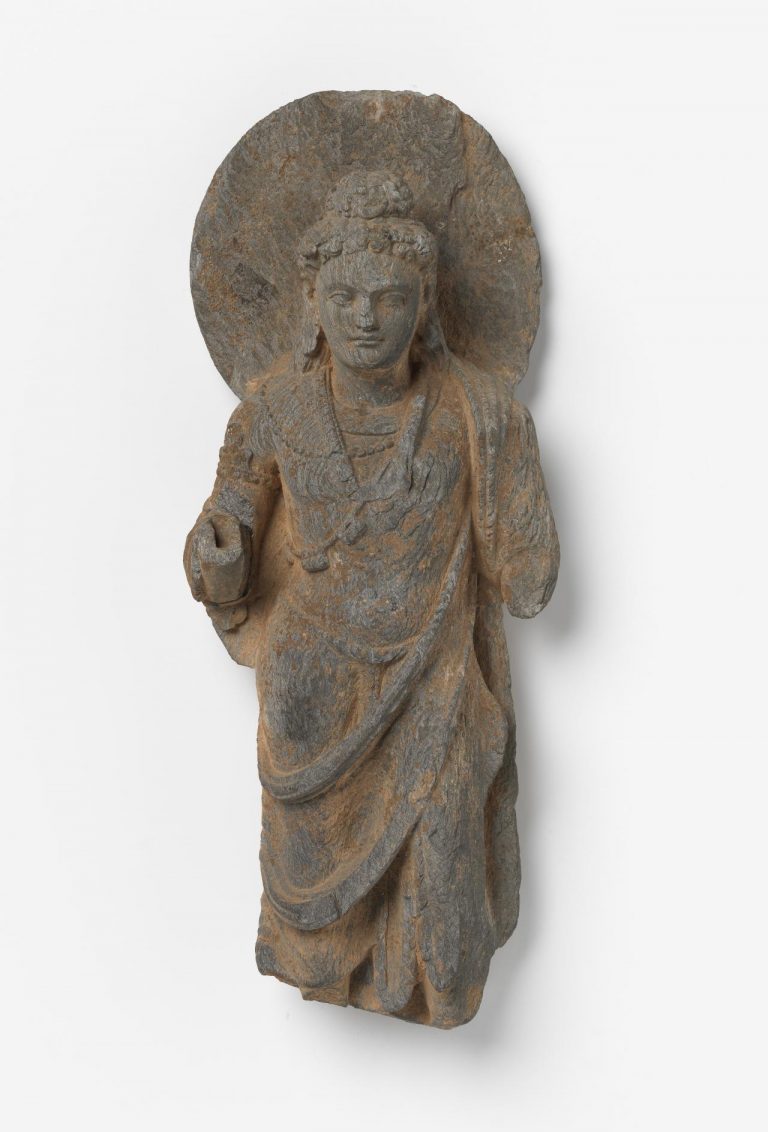 [photo: 2nd century Bodhisattva. Donated 1875 (NGV 52-D2A)]
A 2nd-century CE Bodhisattva, dating from the heyday of ancient Gandhara (in present-day N/W Pakistan) appears to be the oldest Asian work acquired for the pre-Felton collection (NGV 52-D2A): see photo at right. It was donated by a Mr G.Eliot in 1875 (along with smaller Burmese and Indian objects). Other scattered Asian and Middle Eastern artefacts (Burmese, Pakistani, Turkish, Afghan and Persian) are listed among pre-Felton acquisitions, but these were apparently only modest in quality, e.g. a late 19th-century Burmese relief of Buddha calling the earth to witness (NGV 51-D1a), and only a few appear to be extant.
However, the main areas of pre-Felton Asian collecting were Chinese, Indian and Japanese, and by 1904/5 a substantial number of works had been assembled in each of these areas. Despite later losses and de-accessioning, many of these early acquisitions remain, some of high quality. These include smaller statuary, ceramics, and so on, as well as several groups of weapons and armour (still held in the NGV), although good examples of painting and sculpture would only be added to the collection after 1905, beginning with a notable group of Japanese woodcuts by Hokusai and others (Felton Bequest, 1909). Today, the NGV's Asian collection has grown to a total of some 75,000 works, for which the early acquisitions provided a modest but important foundation.
Summaries and lists of examples follow, although it should be emphasized that these are provisional and incomplete at this stage (pending more systematic analysis of this material at some stage in the future). Works are listed in order of acquisition; the symbol # indicates works reproduced in the NGV's online catalogue.
Chinese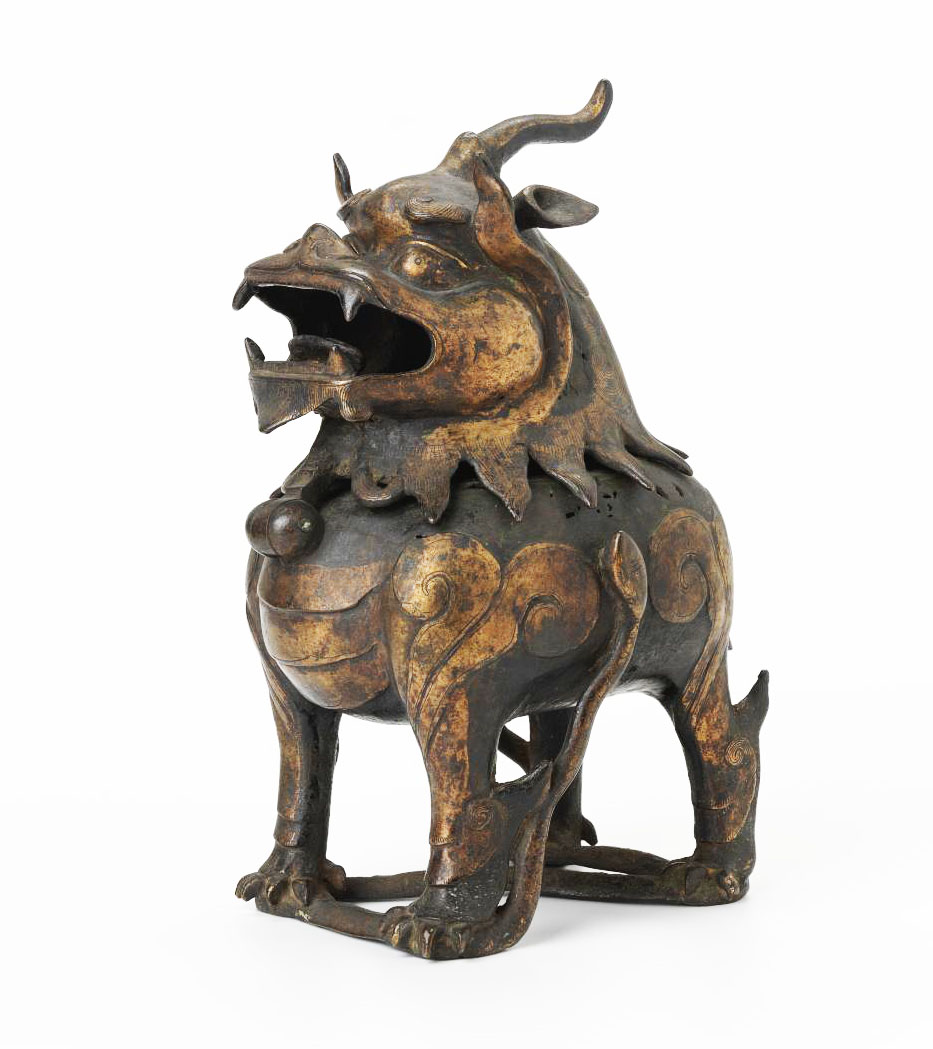 [photo: Ming dynasty Incense burner. Purchased 1867 (NGV 1551.a-b.D1A)]
As former NGV Curator of Asian Art Mae Anna Pang noted in 1983, Melbourne's collecting of Chinese art began in an era of widespread Western interest in such material. Several notable examples entered the collection soon after its formation, including a Qing dynasty plate donated by F.G.Dalgety in 1862, and a Ming dynasty incense burner, part of a group of works purchased in 1867 (photo at right). Various good jade and ceramic pieces were added after 1870, some of these apparently no longer in the collection.
The NGV's current catalogue lists almost 1500 individual Chinese objects, most of them acquired after 1905, when more systematic collecting of Chinese art was initiated by Bernard Hall.
Pre-Felton works included:
Two plates, part of the donation by F.G.Dalgety in 1862 (NGV 1635 and 1636-D1A #)
Various artefacts purchased 1867, several extant in the NGV, including two Ming dynasty works, a brass incense burner (see photo above) and a red lacquer dish (NGV 1551.a-b.D1A and NGV 1645-D1A #)
Enamel incense burner (16th century) and brass brush holder (18th century). Both purchased 1869 (NGV 1610.a-c-D1A and 1601-D1A #)
Various ceramics purchased 1876, e.g. a Qing dynasty bowl (NGV 2086-D1A #); also a pair of vases, apparently no longer extant (acc.nos.2085/2086-D1A)
Several objects acquired in 1880, including statuettes of two of the "eight immortals" (NGV 1571 and 1572.a-b-D1A #) and a jade miniature mountain dated to 1736-95 (NGV1579-D1A #)
Two ivories purchased in 1886 (AR 1886, p.26; no longer extant?)
Several domestic objects purchased in 1892, including a shaving bowl (NGV 1638-D1A #)
Ebony chair, purchased 1902 (NGV 461-D2 #)
Indian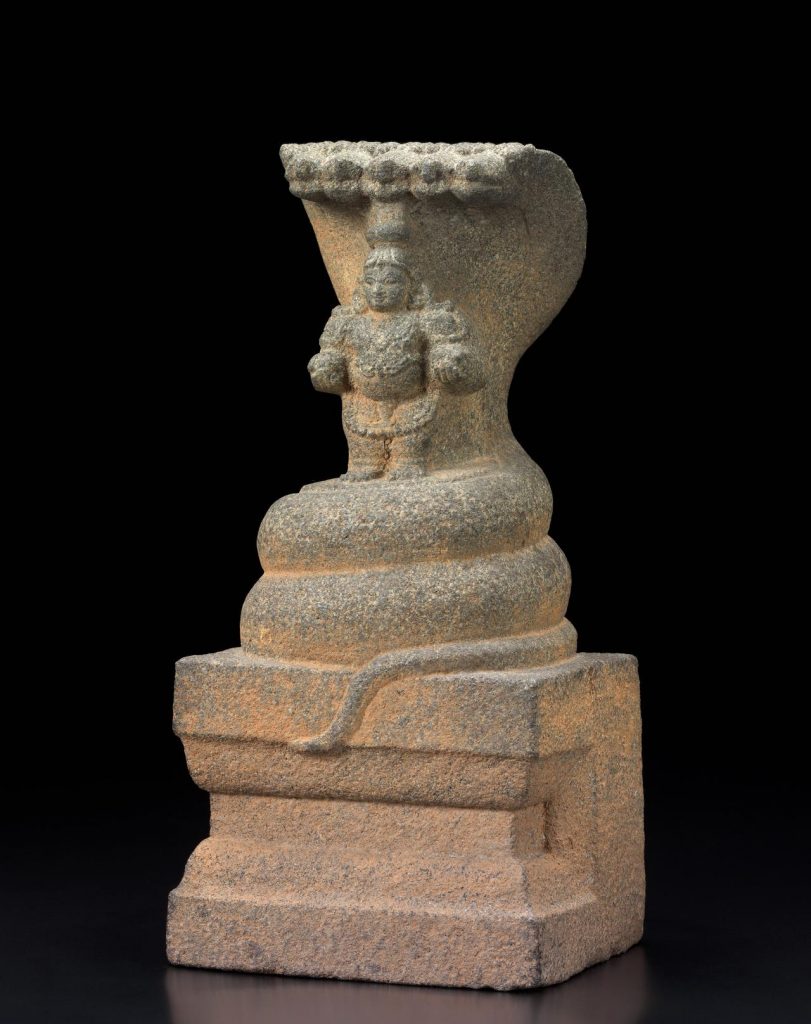 [photo: South Indian, 16th/17th-century: Krishna (granite). Presented by Rev.G.Newport 1883 (NGV 60-D1A)]
Various Buddhist and Hindu artefacts, as well as various domestic objects and weapons, generally recent in date, were collected in the pre-Felton era.
A large group of everyday objects and Hindu musical instruments was donated in 1881, from the 1880-81 Melbourne International Exhibition, by several benefactors including the Commissioner for India. At least two of the instruments (drums), are extant in the NGV (acc.no.345.a-b-D1A #), the donor identified in splendid detail in the gallery's online catalogue as "the Rajah Surendra Mohun Tagore, Mus.Doc.; Companion of the Order for the Indian empire; Founder & President, Bengal Music School." 
Pre-Felton works included:
Gauntlet sword (Pata) donated by Viscount Channing, 1871 (NGV 740-D1A #)
Gandharan Bodhisattva (2nd century CE) (photo reproduced earlier) and several smaller Buddhist reliefs, all donated by Mr G.Eliot, 1875 (NGV 52-D2A # and 53 to 56-D1A #)
Shields, axes, daggers etc., acquired 1878, some extant e.g. Shield, 19th century (NGV 638-D1A #)
A large number of objects donated from the 1880-81 Melbourne International Exhibition (lamps, caskets, weapons etc., mostly of recent date), some extant, e.g. a portable writing desk decorated with inlay ivory and silver (NGV 521-D1A #)
Also donated in 1881, the "large and complete collection of Musical Instruments, used by the Hindoos" (as they are described in AR 1881), as noted above; exactly how many of these remain in the NGV remains unclear
Two statues donated by the Rev.G.Newport, 1883: a 16th/17th-century granite Krishna (photo reproduced above), and an attendant figure, dated c.1880 (NGV 60-D1A # and 57-D1A #)
A collection of bracelets listed in AR 1889 as donated by James Saunders & Co., and described there as metalwork; while some of the examples extant in the NGV are metal, most are made of glass: e.g. one dated to c.1880 (NGV 854-D1A #)
Silk shawl (early 19th century), purchased 1892 (NGV 977-D1A #)
Block printed textiles, purchased in 1895. Many of these, described as "textile samples," and identified as 19th-century products of Agra and other centres, appear to be extant: see e.g. NGV 18-D2 #
Several 19th-century daggers, also bought in 1895: see e.g. NGV 37.a-b-D2 #
Japanese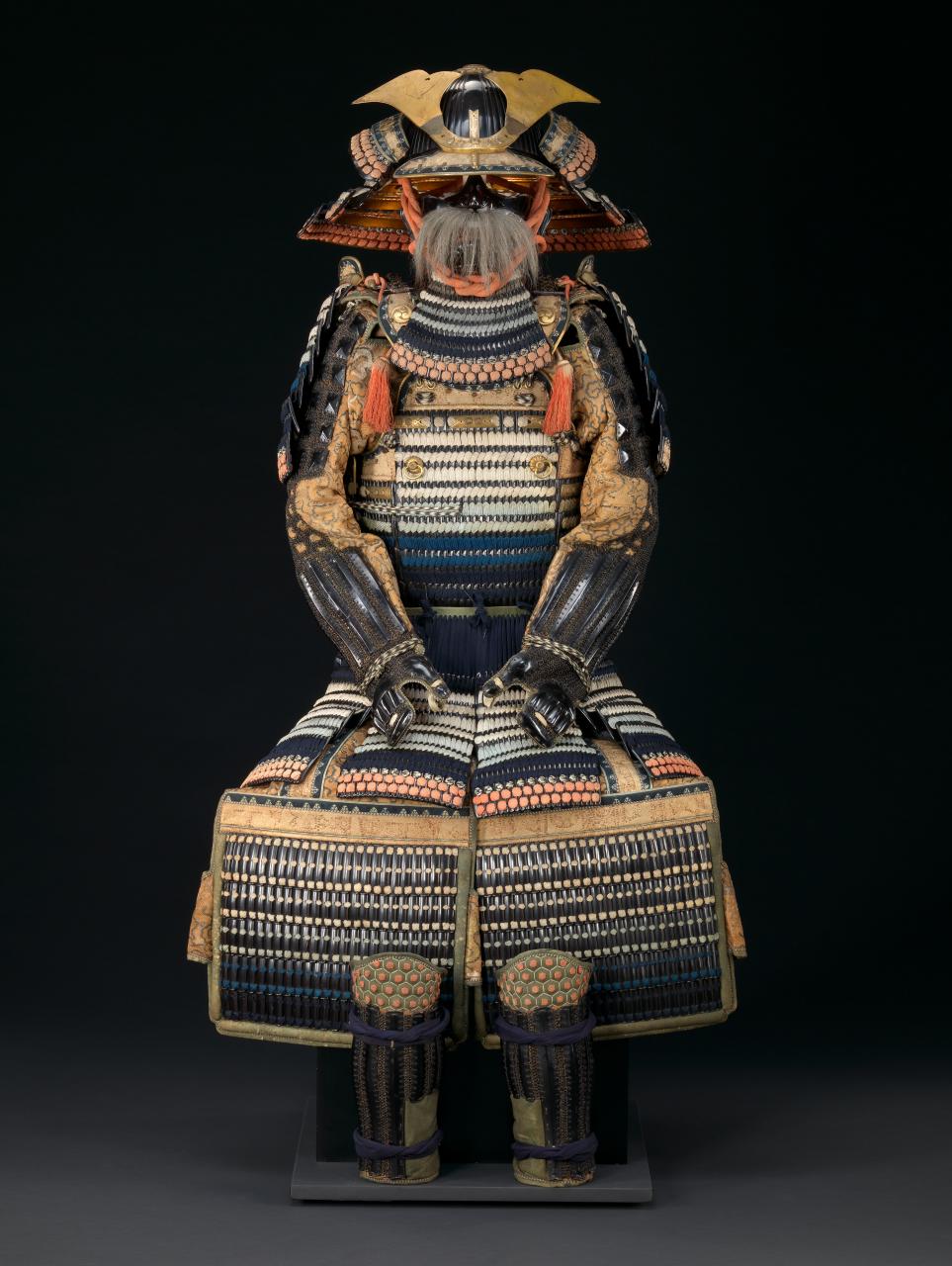 [photo: Edo period Suit of armour (1665). Purchased, 1889 (NGV 460.1-32-D2)]
Japanese domestic and religious objects were acquired on a regular basis from the 1860s, many of recent date, including an unspecified number of pieces of "Choice Specimen Japanese Lacquered Work," noted in the 1881 Annual Report as purchased from the Melbourne International Exhibition. Complete suits of armour dating from the Edo period (1603-1868) were acquired in 1888 and 1889 (see e.g.photo at right). Both are evocative of the samurai era, though by the 17th and 18th centuries that culture had become largely ceremonial.
In 1909, a remarkable group of woodcuts by Hokusai and others was purchased through the Felton Bequest, initiating the second phase of collecting in this field.
Pre-Felton works included:
2 enamel dishes (19th century), purchased 1875 (NGV 2082/2083-D1A #)
2 cloisonné vases, listed in AR 1876, p.42 (under "Objects of curiosity"). Loc?
"Suit of Japanese armour, Ashantee Horse Trappings, &c." (AR 1878). Loc?
Various vases and other objects, acquired 1881, some extant, e.g. 18th-century bronze Tobacco box (NGV 2003-D1A #), Yoshimoto vase, 19th century (NGV 2036-D1A #), and embroidered silk fabric, also 19th century (NGV 2202-D1A)
Samurai and chrysanthemum maiden, bronze, Meiji period (1868-1912), purchased 1883 (NGV 2032.a-c-D1A #)
Incense burner, Meiji period (1868-1912), donated by W.Madden 1883 (NGV 2039.a-h-D1A #)
19th-century paintings on silk (Death of Buddha; Hannya the demon), purchased 1887 (NGV 1900-D1A and 1901-D1A #)
Flute and case, 17/18th century, purchased 1887 (NGV 2008.a-b-D1A #)
Copper pagoda reliquary, 19th century, purchased 1887 (NGV 2043.a-b-D1A #)
Group of figures and octopus, okimono (ivory, Meiji period), accessioned 1887 (NGV 2075E-D1A #)
Wind and thunder gods, okimono (ivory, Meiji period), accessioned 1888 (NGV 2075B-D1A #)
Picnic set and cosmetic cabinet (lacquer; 19th century), purchased 1888 (NGV 2011.a-k-D1A and 2012.a-e-D1A #)
Saddle and stirrups, box for horse trappings, ceremonial helmet (Edo period), purchased 1888 (NGV various: 2025M.a-c-D1A etc. #)
Suit of armour (18th century), gift of Mrs Henry Darlot 1888 (NGV 2066-a-k-D1A #)
Suit of armour with saddle etc.etc. (1665), purchased 1889 (NGV 460.1-32-D2 #) [see photo above]
Tortoise shell box (19th century), purchased 1889 (NGV 2001.a-b-D1A #)
Tea bowl (karatsu ware) and Vase (satsuma ware), donated by Mr P.Wilkinson 1897 (NGV 362-D2 and 363-D2 #)
Elk and monkeys, kimono (ivory, Meiji period), accessioned 1890 (NGV 2075D-D1A)
Tray (satsuma ware, Meiji period), purchased 1901 (NGV 458-D2 #)
oOo
Refs.
For the full photograph of Queen's Hall (SLV H3971), see 1862 (or later) Queen's Hall; many thanks to SLV librarian Gerard Hayes, for drawing my attention to the statue lurking in this image
For a good overview of the NGV's Asian collection, see Pang Asian Art (2003); and for a detailed account of the growth of the Chinese Collection, see also Mae Anna Pang, An Album of Chinese Art from the National Gallery of Victoria, NGV, 1983, esp.pp.12-21