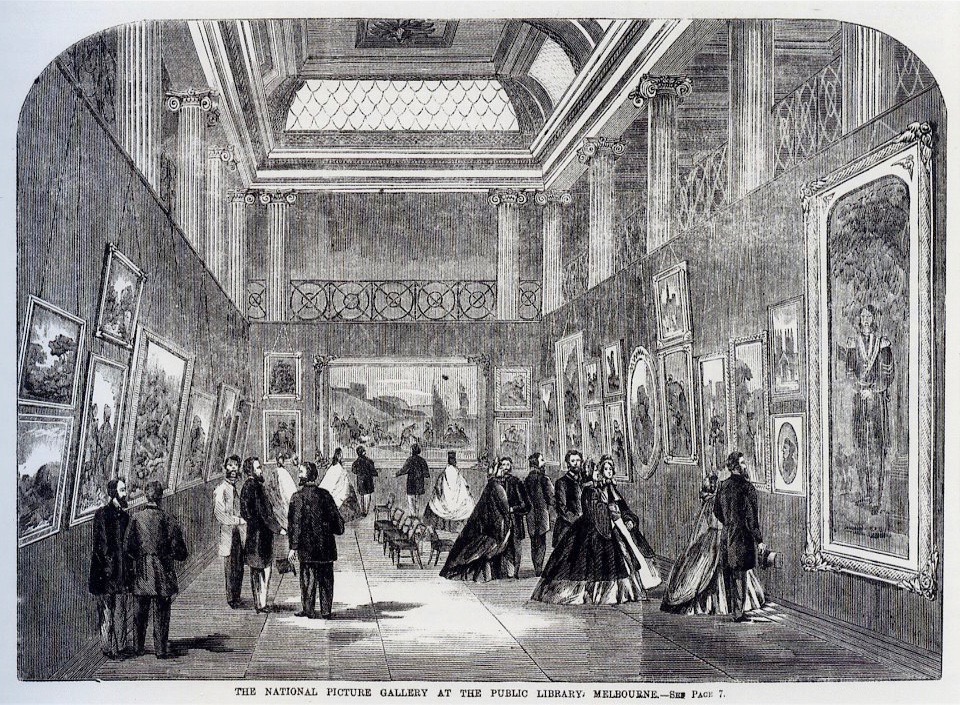 [photo: Picture Gallery, Melbourne Public Library, 1865]
The following summary chronology notes some of the key steps in the formation of Melbourne's art collections (paintings unless noted otherwise; dates refer to acquisition). For individual acquisition dates, use the search function.
1853ff.: Foundation of the Melbourne Public Library (MPL), art collection mooted
1860: Summers bust of Redmond Barry [SC]; Photo albums by Frith, Fenton etc. [PH]
1861: Melb.Public Library Museum of Art opened (plaster casts); Short Fish, fruit & flowers
1862: Dalgety gift (ceramics, inc.some Chinese examples); Egyptian objects [AN]
1863: Fine Arts Commission established, with Sir Charles Eastlake as English adviser
1864-5: First paintings bought & exhibited (Bedford etc.); and Chevalier Buffalo Ranges
1865: Beechey Lady; T.Clark Sir Henry Barkly; Summers Sir Henry Barkly [SC]
1866: von Guérard Mitta Mitta; A.Thomson adviser (to 1890); Intercolonial Exh. (MPL)
1867: Chinese objects [AS]; Flaminio Puberta [SC]; Summers Aborigines (plaster) [SC]
1868: Works on paper by S.T.Gill, O'Brien etc.etc., donated by J.P.Fawkner
1869: Buvelot Summer Afternoon/Winter Morning; Gill Goldfields [WT] (commission); NGV formally established
1870: Buvelot Waterpool at Coleraine; von Guérard Mt Kosciusko
1871: Venetian glass purchase [DA]; von Guérard 1st Master of Painting (NGV art school)
1871-2: Ruskin & Herbert NGV advisers: various paintings and watercolours
1873: Layraud Italian Brigands; Martens Falls on the Apsley (commission) [WT]
1874: Craesbeeck Death and an Old Woman; Murano glass objects [DA]
1875: Opening of new Picture Gallery; Duntze Norwegian Fjord; various Asian objects [AS]
1876: Pettie Arrest for Witchcraft; Rivière painting, prints (after); Wedgwood ceramics [DA]
1877: McDowell Eve [SC]; Marshall Wood Daphne [SC]; more Wedgwood ceramics [DA]
1878: Herbert Moses bringing down the Tablets; Summers 4 Royal statues [SC]
1879: Schenck Anguish; G.C.Levey gift of c.200 engravings, mostly French
1880: Death of Redmond Barry; Melb.International Exh.: Venetian glass, ceramics etc.
1881: G.F.Folingsby appointed NGV Director/Art School Head; Woolner Redmond Barry [SC]
1882: Hodges drawings etc.; paintings by N.& W.Paton
1883: watercolours by Gigli, Guardabassi, Law, May
1884: Thompson Quatre Bras; Todt Gold Diggers [SC]; Scurry drawings
1885: Sculptures by Benzoni, Cranari etc.; various ceramics by De Morgan & others [DA]
1886: Kneller Lady; Scheffer Temptation of Christ; French glass by Brocard etc. [DA]
1887: 1st NGV schol'ship to Longstaff; Orchardson First Cloud; Gilbert Redmond Barry [SC]
1888: Centennial Exhibition: paintings by Alma-Tadema, Turner, Watts; and Boehm statues
1889: Paintings by Gude etc.; sculpture by Ball and Woolner; and decorative arts purchases
1890: Paintings by Brozik, Joanowitch; Uphues Archer [SC]; Rowan Flower Painting [WT]
1891: Waterhouse Ulysses; sculpture by Mercier, Mackennal; etchings by Rembrandt etc.
1892: Bernard Hall NGV Director/Art School Head; Bunny Sea Idyll; Whistler Thames set [ET]
1893: Demont Don Quixote; Victoria & Albert etchings (gift of Q.Victoria); Greek vases [AN]
1894: Longstaff The Sirens; painting and drawing by Ludwig Becker; Greek pots [AN]
1895: Paintings by D.Davies, Humphrey, Withers; drawings by Burne-Jones et al. [DR]
1896: Streeton Purple Noon's Transparent Might; Italian lace & embroidery [DA]
1897: Phillips Fox portraits; Haydon Marcus Curtius; drawings by Leighton & others [DR]
1898: Longstaff Gippsland Bushfire; Philippson Madame Couvreur
1899: Paintings by Ramsay, C.D.Richardson; Cruikshank etchings; Egyptian objects [AN]
1900: Paintings by Kemp-Welch, McCubbin, Patterson; Mackennal Madame Melba [SC]
1901: Fuller William Barak; Francis Lord Melbourne [SC]; English watercolours
1902: Buvelot Between Tallarook & Yea; Fox Landing of Captain Cook; Varley watercolours
1903: Ward Josephine; von Guérard sketches [DR]; Phil May caricatures [DR]
1904: death of Felton: works by Bonington, Buvelot etc.selected from his estate; drawing by N.Lindsay; Egyptian objects [AN]
1905: First Felton Bequest purchases