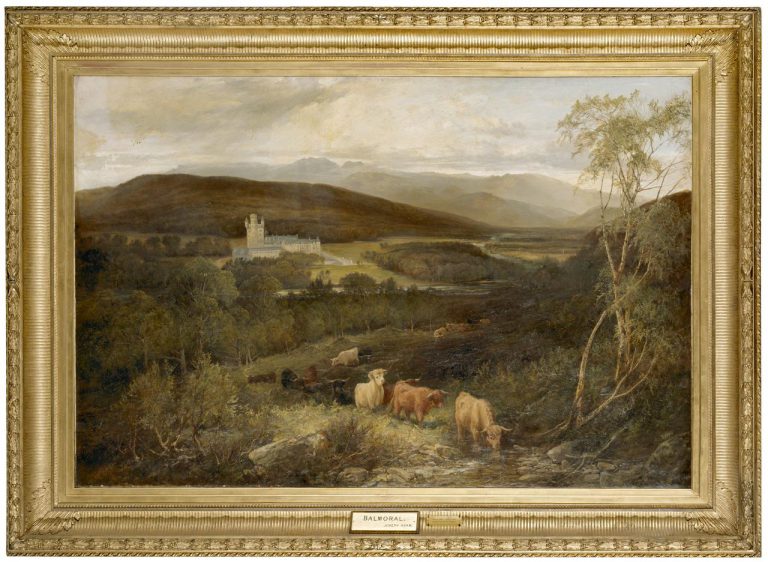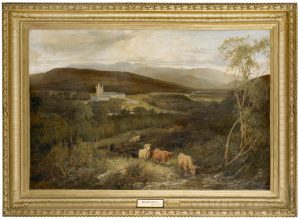 Adam, Joseph Denovan, Senior (1842-96; Scottish)
Balmoral (1876-77)
Oil on canvas, 122.8 x 183.5 cm
Purchased, 1878
National Gallery of Victoria (p.306.5-1)
Scottish highland imagery is combined here with allusions to the monarchy, in an archetypal demonstration of the strong British affiliations of the young Victorian colony.
The artist made a specialty of Scottish landscapes inhabited by cows or sheep. The classical revival frame is credited to the London firm of J.Rorke, 1877.
Refs.
AR 1877, p.75 (received Feb.1878); NGV 1891, p.34 (as on loan to the Bendigo Art Gallery); NGV 1894, p.99 (IV.McArthur Gallery, no.79: on loan to Bendigo); NGV 1905, p.160 ("Pictures on loan to country galleries") [£150] 
The NGV catalogue also includes information on the frame. For the artist, see Bénézit I, pp.90-91; AKL I (1983), p.302; and http://www.bbc.co.uk/arts/yourpaintings/artists/joseph-denovan-adam and http://www.blouinartinfo.com/artists/joseph-denovan-adam-7050 (both reproducing further examples)