Adlard, Henry (active c.1821-70; English), after Evans, George William (1780-1852; English)
Hobart Town, 1821
Engraving, size unknown
Acquired by 1894
Unidentified; present location unknown
Evans, a noted early colonial explorer and surveyor, and an artist of considerable ability, arrived in Sydney via South Africa in 1802. He was second-in-command to Surveyor-General John Oxley during the 1810s, first visiting Tasmania in 1812.
His Geographical, Historical and Topographical Description of Van Diemen's Land was published in London in 1822, with an engraving of Hobart inscribed as by Adlard after Evans (hence, presumably, this print) as the frontispiece: see comparative reproduction below.
Despite allegations that Evans had taken bribes, resulting in a period back in England, he returned to Australia in 1832, and was employed for some years as drawing master at the King's School, Parramatta. In 1844, he moved to Hobart, where he remained until his death.
Adlard was a prolific engraver, based in London.
[photo: Evans's Description of Van Diemen's Land, 1822: title page and frontispiece]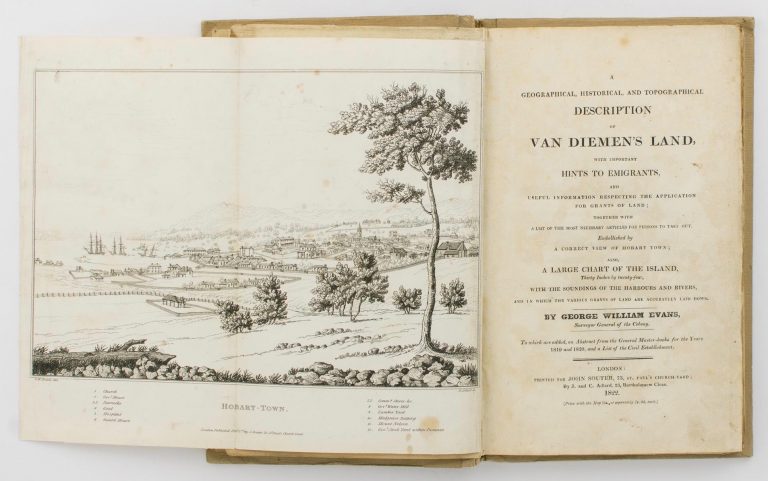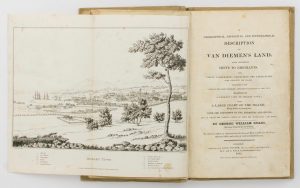 Refs.
NGV 1894, p.113 (V.Buvelot Gallery, 3rd bay, no.20); NGV 1905, p.131 (V.Buvelot Gallery, 3rd bay, no.31) 
For Evans, see the biography in Design & Art Australia online: https://www.daao.org.au/bio/george-william-evans/biography/ (providing the details above) and AKL 35 (2002), p.364, both with further references. For the copy of his 1822 book reproduced here, see https://www.treloars.com/pages/books/114408/george-william-evans/a-geographical-historical-and-topographical-description-of-van-diemens-land-with-important/?soldItem=true (accessed 27 Jan.2020)
For Adlard, see AKL 1 (1983), p.384 and Bénézit 1, p.116; for another engraving by him (a Welsh landscape), see SLV online catalogue; further examples of his engraved work are listed and reproduced in https://commons.wikimedia.org/wiki/Category:Henry_Adlard (as fl.1828-1869); and http://www.npg.org.uk/collections/search/person/mp10326/henry-adlard lists a number of portrait engravings by him