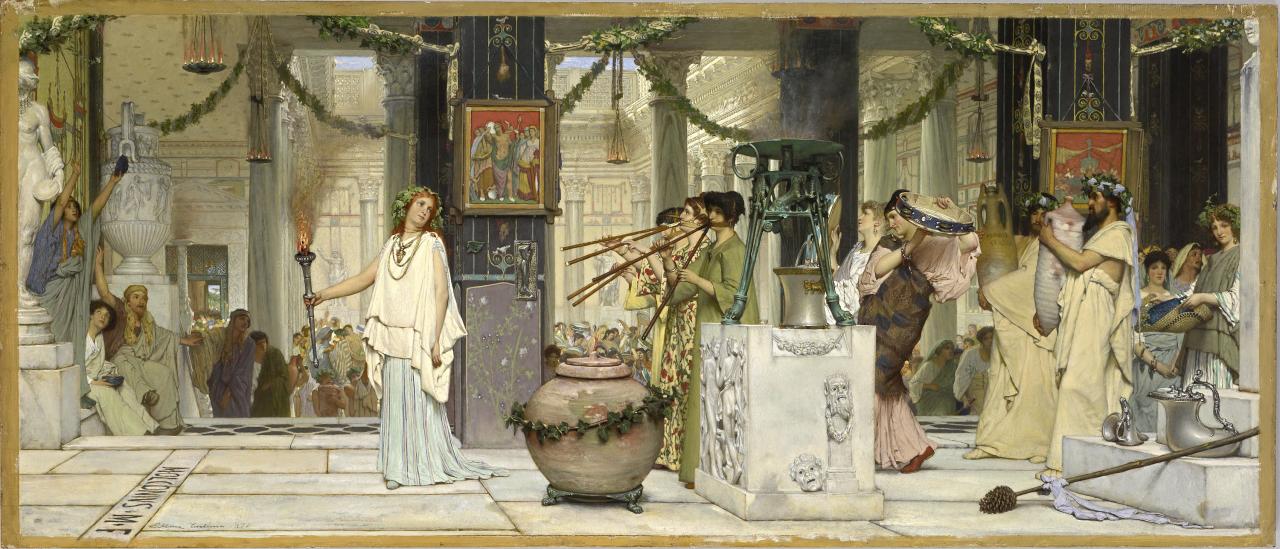 Alma-Tadema, Lawrence (1836-1912; Dutch/English)
The Vintage Festival 1871
Oil on panel, 51.0 x 119.0 cm
Purchased, 1888
National Gallery of Victoria (p.312.7-1)
The 1905 NGV catalogue entry adds "duplicate" after the title of this work, emphasizing the fact that it replicates a larger painting of 1870 (Hamburg, Kunsthalle).
Michelle Bonollo (1998) discusses the NGV panel (which served as the basis for a popular engraving published in 1873), and its relationship with the Hamburg picture. Renée Free, in Victorian Olympians (1975), notes that the present painting was exhibited in Philadelphia in 1876, and purchased from Agnew's in 1888. The price of £4,000 set a new record for the NGV.
For the artist, see linked entry.
Refs.
AR 1888, p.36; NGV 1894, p.25 (I.La Trobe Gallery, no.30; ill.); NGV 1905, p.21 (I.La Trobe Gallery, no.38; ill.) [£4,000] 
For a detailed analysis, see Michelle Bonollo, "From Old World to New: English and Australian Responses to Sir Lawrence Alma-Tadema's The Vintage Festival," Art Bulletin of Victoria 39 (1998), pp.23-34; see also Gott 19C (2003), pp.108-9; and Victorian Olympians (1975), cat.2
For the Hamburg canvas (77 x 177 cm), see R.J.Barrow, Lawrence Alma-Tadema, Phaidon, 2001, pp.48-52 (no.44), noting that it was bought for £1,850 in 1871; Barrow does not mention the NGV painting