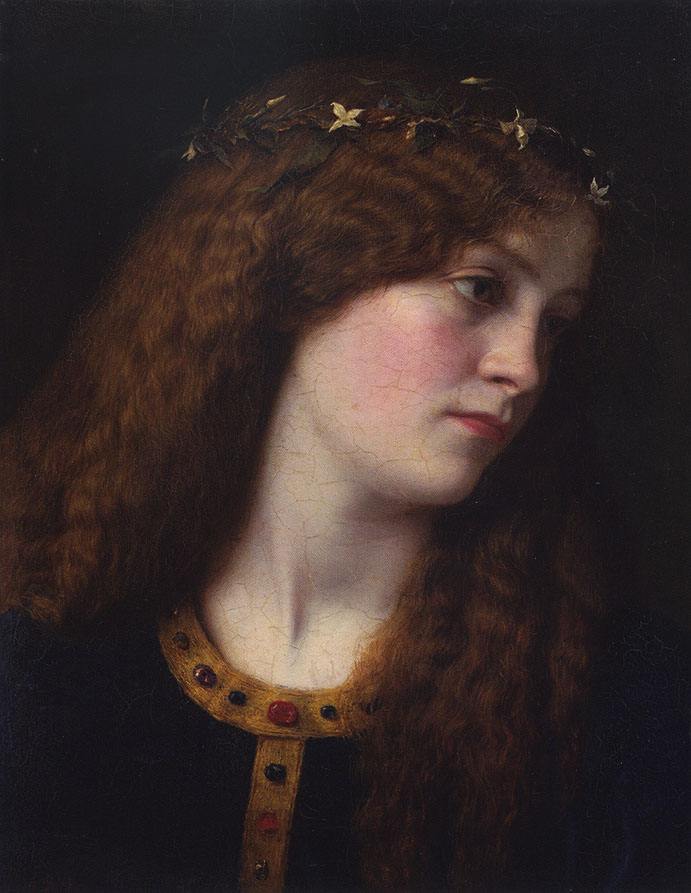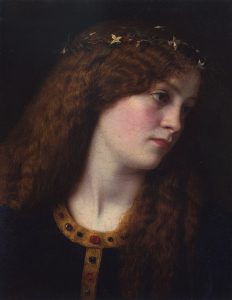 Bedford, John (1823-86; English)
La Belle Yseult 1863
Oil on wood panel, 35.4 x 27.9 cm
Purchased, 1864 (advice of Sir Charles Eastlake)
National Gallery of Victoria (p.300.3-1)
Bedford specialized in both portraits and historical subjects, and exhibited at the Royal Academy from 1848 onwards. This painting was shown at the RA in 1864, where Eastlake saw it and chose it for Melbourne.
Ann Galbally notes that this work – one of the first paintings purchased for Melbourne by the Commissioners of Fine Arts for Victoria – won high praise on its arrival in Australia, was shown in the Intercolonial Exhibition in Melbourne in 1866, and continued to enjoy both popular and critical support in subsequent years.
The medieval legend of Yseult (Isolde), tragically loved by Sir Tristram (Tristan), was popular at the time, re-told in a modern verse version by Matthew Arnold (1852), popular with the pre-Raphaelites and other artists of the day, and adapted in Wagner's well-known opera (premiered the year after this painting was purchased for Melbourne).
Here, unusually, the focus is on the princess alone, as if viewed through the eyes of her ardent lover. 
Refs.
NGV 1879, p.10; NGV 1894, p.79 (IV.McArthur Gallery, no.26: on loan to Bendigo); not listed in NGV 1905 [£26/5] 
For this work, see also Galbally et al., The First Collections (1992), p.42, cat.no.2 (quoting examples of the work's favourable early reception in Melbourne; and noting other contemporary visual artists' treatment of the story). While listed in earlier NGV catalogues, this work does not appear in the 1905 catalogue, but it may have been on loan at the time and inadvertently missed. In NGV 1894, it was listed as on loan to the Bendigo gallery, and then in the 1914 and 1929 SLV/NGV Annual Reports (available online) as on loan to the Warrnambool Museum
For Bedford, see AKL 8 (1994), p.213. For the subject, see e.g. http://en.wikipedia.org/wiki/Tristan_and_Iseult, a detailed and well-referenced discussion, emphasizing literary and musical material