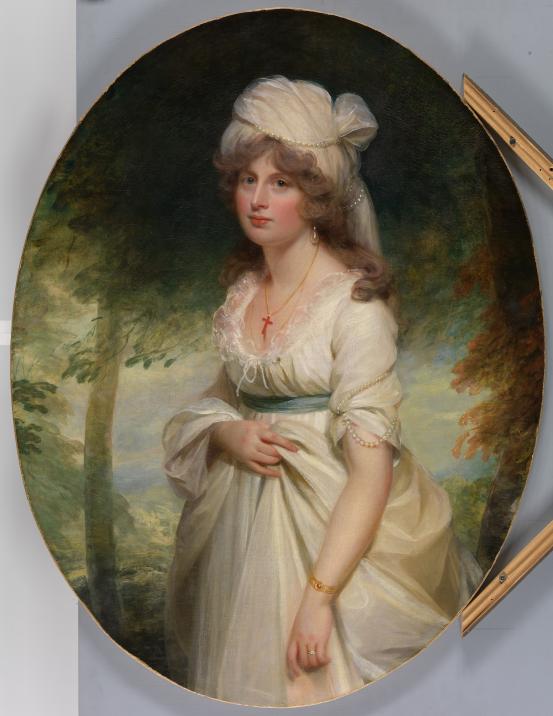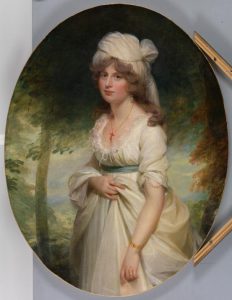 Beechey, William (1753-1839; English)
Portrait of a Lady
Oil on canvas, 125.7 x 93.3 cm
Purchased by the Commissioners of Fine Arts for Victoria, 1865
National Gallery of Victoria (301.11/1)
This canvas was bought in Melbourne, on the recommendation of Augustus Tulk (according to Leonard Cox). It was described at the time as a portrait of Lady Hamilton by an anonymous artist; later, it was said to show an unknown lady (see NGV 1875).
Then, in the 1894 catalogue entry for this work, the artist was identified as Beechey, Queen Charlotte's portraitist from 1793, who was elected an RA in 1798 and knighted in the same year.
Ursula Hoff, in her authoritative modern catalogue of NGV paintings "before 1800," describes the attribution to Beechey as "convincing," adding that the figure represented could be the artist's wife – but it is unclear whether this refers to his first wife Mary Ann (c.1760-93) or Ann (1764-1833), whom Beechey married in 1793. The painting has been cleaned recently (compare the yellowed varnish in the reproduction in Hoff 1995).
Refs.
NGV 1875, p.37 (as by an unknown artist, of an unknown lady); NGV 1894, p.123 (V.Buvelot Gallery, 7th bay, no.7: as by Beechey); NGV 1905, p.141 (V.Buvelot Gallery, 6th bay, no.11; ill.) [£250] 
Hoff (1995), p.10, notes the original identification, in Fine Arts Commission Papers, 1864-66; see also Cox, NGV (1970), p.15 (on Tulk's role)
For Beechey, see also AKL 8 (1994), p.228 and Bénézit 2, pp.11-12 (both mentioning the NGV picture); and http://en.wikipedia.org/wiki/William_Beechey. In 2010-11, two full-length portraits by Beechey, of the Earl of Stradbroke and his wife (1796), were donated to the NGV: see http://www.ngv.vic.gov.au/col/artist/835