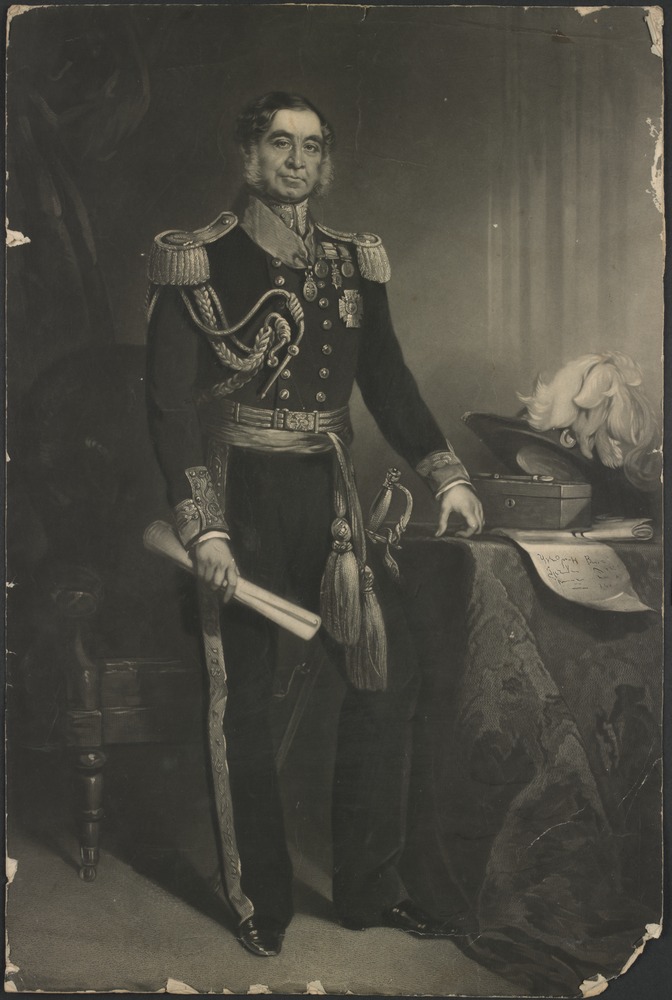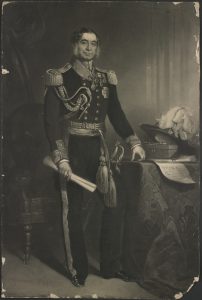 Bellin, Samuel (1799-1894; English), after Buckner, Richard (1812-83; English)
Sir Charles Fitzroy (c.1856)
Engraving, 61 x 41 cm
Presented by Sydney Crisp, 1872
State Library of Victoria (H1599)
This engraving, recorded by the SLV as donated in 1872, was presumably one of the two portraits of Fitzroy included in the list of colonial governors in NGV 1894, the other apparently being from the Public Library's "Oval portrait" series (no.28).
Fitzroy (1796-1858) was Governor of New South Wales from 1846 to 1855, presiding over the formal separation of Victoria as a colony in 1851.
Both this engraving and his oval portrait were based on the 1855 oil portrait of him (Government House, Sydney), the first significant London commission given to Buckner, who went on to a successful career as a portrait painter.
Bellin was a noted reproductive engraver of the period.
Refs. 
NGV 1894, p.101 (V.Buvelot Gallery, 1st bay, no.27 or 28); not listed in NGV 1905? (see comments below)
Only one portrait of Fitzroy is listed in NGV 1905, presumably the oval portrait produced in 1866 by Johnstone, O'Shannessy & Co. (for details and a reproduction, see SLV online catalogue: H5297), also listed in NGV 1894, as noted above. For Fitzroy, see http://adb.anu.edu.au/biography/fitzroy-sir-charles-augustus-2049 (biography by John M.Ward, published in ADB vol.1, 1966)
For Buckner, see linked artist entry. For Bellin, see Bénézit 2, p.91; AKL 8 (1994), p.480; and http://en.wikipedia.org/wiki/Samuel_Bellin