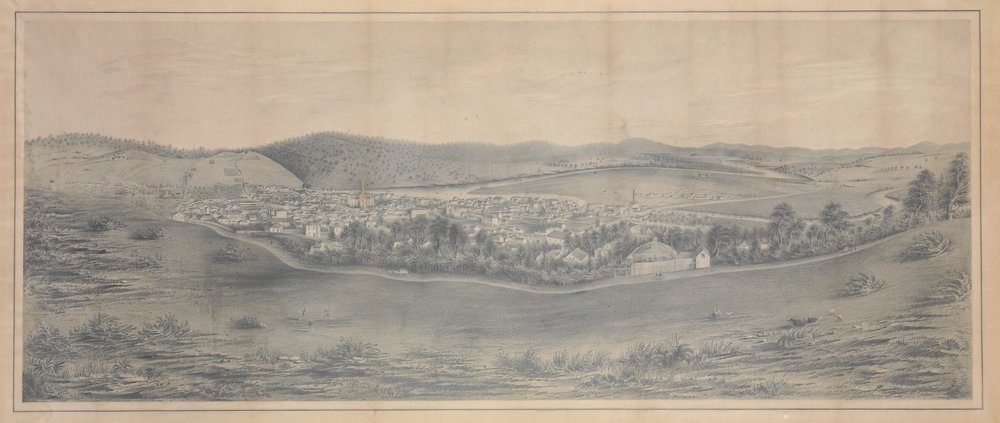 Black, Margaret (active 1859-63; English?)
Launceston and the Tamar, from Flagstaff Hill (c.1859 or earlier)
Pencil drawing mounted on wood, 12.05 x 25.5 cm
Presented by the artist, by 1870
State Library of Victoria (H34678)
Joan Kerr, in her biography in the Dictionary of Australian Artists, observes that this drawing, Black's "major known work," was shown in Melbourne in October 1859 (receiving favourable comment in the Argus), and then again in the Victorian Exhibition of Fine Arts, Melbourne (Nov.1860) and in Launceston (1861).
Comments published in 1861 suggested that the drawing must have been made from memory, since recent Launceston buildings were not included. However, it may have been made earlier; Kerr notes that the artist lived in Tasmania with her Victorian squatter husband Philip between the 1830s and late 1850s.
AR 1870-71 (the consolidated report covering all the acquisitions for the MPL from its inception to early 1871), indicates that this work was donated by the artist herself.
Refs.
AR 1870-71, p.34 (under Schedule XXXIV: Drawings; as donated by Miss Black); also listed in PF (acc.no.p.164.7-1, as acquired between 1861 and 1894, describing it as a "topographical pencil drawing of Launceston Tasmania" by Margaret Black); not listed in NGV 1894 or NGV 1905 
SLV online catalogue: details and reproduction as shown here. For the artist, see Kerr Dictionary (1992), pp.69-70, and https://www.daao.org.au/bio/margaret-black/biography/ (by Kerr 1999; last updated 2011), including the information noted above, and further references. See also AKL 11 (1995) 
Confusingly enough, another "topographical pencil drawing of Launceston, Tasmania" is listed in NGV 1865, p.40, as presented by William Wilson, Esq., MLA, but this appears to have been a  different drawing, not so far identified; for William Wilson (1834-91), see https://www.parliament.vic.gov.au/component/fabrik/details/24/956 (accessed 11 Oct.2020)