Bonham Carter, Joanna Hilary (1821-65; English)
Florence Nightingale
Parian ware, size unknown
Presented by George Bartrop, 1880
Unidentified; present location unknown
This bust is recorded in the gallery's Annual Report for 1880 as made of "Parian marble" – a type of porcelain. (An account of this medium, noting its introduction by Copeland's at Stoke-on-Trent in 1842, was published in the English Art Journal in 1859).
The artist was the aunt of the sitter, the famous pioneer of modern nursing (1820-1910). Bonham Carter (an ancestor of the contemporary actress Helena Bonham Carter), also produced a drawing of Nightingale in about 1845: reproduced below.
A lithograph of Nightingale by Richard Lane (after Bonham Carter) was also published by Paul & Dominic Colnaghi in 1854.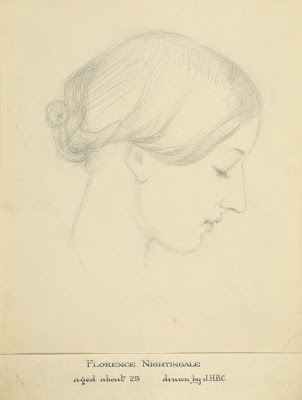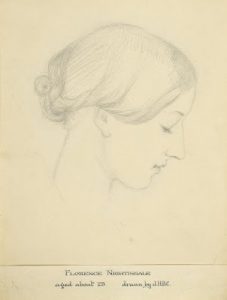 [comparative photo: drawing of Florence Nightingale by Bonham Carter]
Refs.
AR 1880, p.74; SB p.418: as presented 10 Feb.1880; with added note: "transferred to Mr Frost 30/10/89"; NGV 1894, p.138 (VII.Cast Gallery, no.84); not listed in NGV 1905
The artist is not listed in either AKL or Bénézit. For the drawing reproduced here, see http://goldenagepaintings.blogspot.com/2011/04/hilary-bonham-carter-florence.html; the National Portrait Gallery owns several impressions of Lane's lithograph of Nightingale: see https://www.npg.org.uk/collections/search/person/mp71190/joanna-hilary-bonham-carter (both accessed 26 Sept.2018).
For the family relationships, see http://www.express.co.uk/celebrity-news/193267/Helena-Bonham-Carter-related-to-Florence-Nightingale and https://everipedia.org/wiki/Bonham_Carter_family/ (also both accessed 26 Sept.2018)

For Parian ware, see "The Corridor of Statuary-Porcelain at Alderman Copeland's, New Bond St.," The Art-Journal London vol.5, 1859, pp.347-8 (available via Google Books)