Bourne, Herbert (c.1820-1907; English), after Doré, Gustave (1832-83; French)
The Christian Martyrs 1875
Engraving, 56.2 x 82.3 cm (image)
Donated by the Hon.W.Brodribb, 1876
Present location unknown
Bourne's engraving was based on a popular Doré canvas of 1871 (Musée d'Art Moderne, Strasbourg; also known as The Night in the Cirque).
The print acquired in 1876 no longer seems to be in the Melbourne collection, but another impression is listed in the NGV's online catalogue as presented through the NGV Foundation in 2005.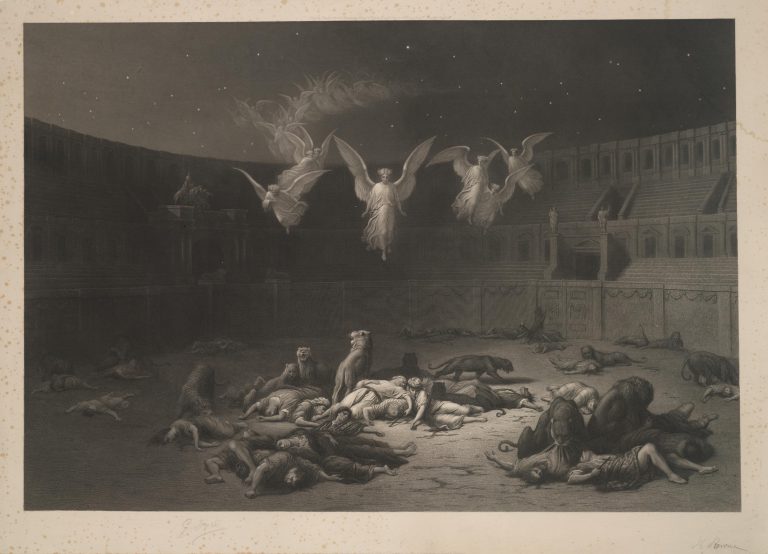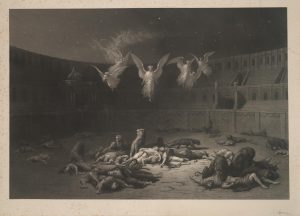 [photo: NGV impression presented in 2005]
Refs.
AR 1876, p.43 (details as noted above); NGV 1894, p.106 (V.Buvelot Gallery, 2nd bay, no.11); not listed in NGV 1905 
For Doré, see http://www.thearttribune.com/Gustave-Dore-Born-a-Painter.html; Bénézit 4, pp.1076-80; and AKL 20 (2001), pp.47-50; and for his canvas, see e.g.http://www.wikiart.org/en/gustave-dore/the-christian-martyrs
For Bourne's engraving, see http://www.ngv.vic.gov.au/explore/collection/work/77231/ (impression acquired by the NGV in 2005); and https://www.sandersofoxford.com/shop/product/christian-martyrs-reign-of-diocletian-rome-ad-303/ (another impression). For Bourne, see AKL 13 (1996), p.388 (with artist dates as shown here)