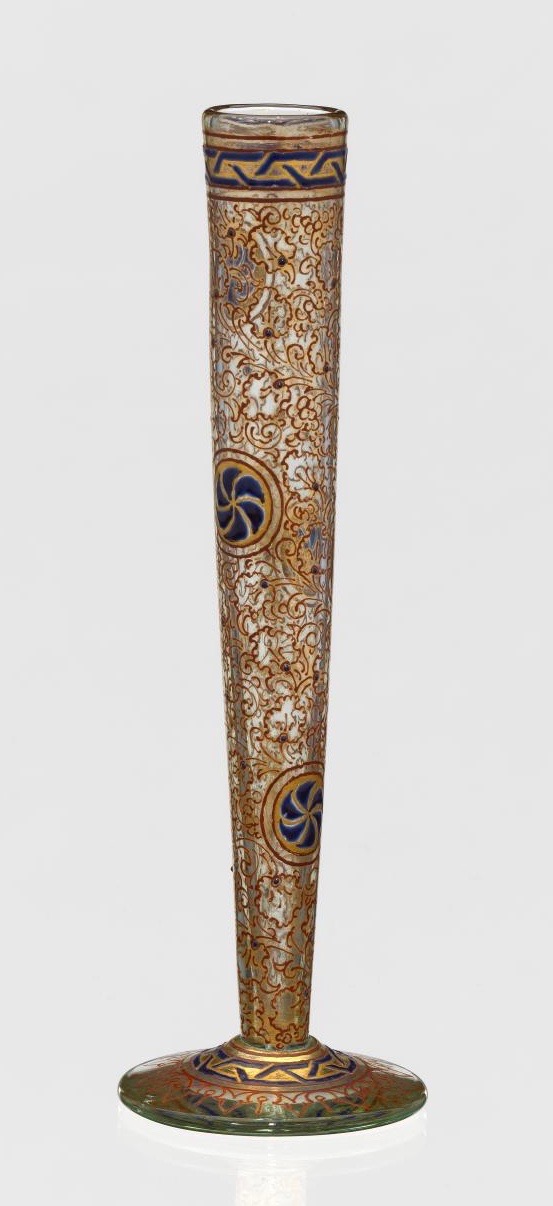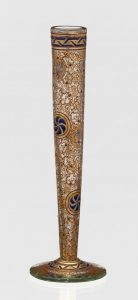 Pre-Felton acquisitions included:
Tube (c.1878) and two Goblets, (c.1880). Purchased 1886. NGV 722-D1M, 723-D1M & 738-D1M 
[photo: Tube 1880 (NGV 722-D1M)]
The work of French glassmaker Philippe-Joseph Brocard (1831-96), inspired by Islamic decorative traditions, received favourable attention in exhibitions in Paris in 1867 and 1878. These examples were bought, along with other pieces of French glass, from Thomas Webb and Sons in 1886.
Other Brocard pieces may also have been acquired in 1886 (possibly included in the 1943 auction of decorative art works from the NGV collection).
A jug by Brocard, of c.1880, was added to the NGV collection in 1982. Geoffrey Edwards (1998) suggests that all four pieces now in the NGV may have been exhibited at the Melbourne International Exhibition (1880-81).
Refs.
For details and illustrations of the 4 works now in the NGV collection, see https://www.ngv.vic.gov.au/explore/collection/artist/8559/ and Edwards, Art of Glass (1998), pp.160-61; cf. Edwards in Lane, Decorative Arts (1980), p.82 (noting the purchase from Thomas Webb)