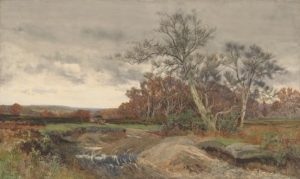 Bromley, John Mallord (1858-1939; English)
The Road that Skirts the Common (c.1885-90)
Watercolour over traces of pencil with scratching out, on paper, 74.1 x 127.5 cm (sheet)
Purchased, 1892
National Gallery of Victoria (p.432.4-1)
This large, moody watercolour was bought from the Anglo-Australian exhibition held in Melbourne in 1892. In 2011-12, it was included in the NGV exhibition British Watercolours, 1760-1900: The Age of Splendour. 
The artist lived in Cornwall and Devon in his later years; curiously, he is not listed by Mallalieu (1976).
Ref.
AR 1892, p.23; SB, p.432; NGV 1894, p.63 (II.Stawell Gallery, no.117; ill.); NGV 1905, p.39 (II.Stawell Gallery, no.7 [£80]
For Bromley, see AKL 14 (1996), pp.352-53; Bénézit 2, p.1291; http://cornwallartists.org/cornwall-artists/john-mallard-bromley; and auction house websites
For the NGV's 2011-12 British Watercolours exhibition, see http://www.ngv.vic.gov.au/__data/assets/pdf_file/0009/527616/BW_ILL_CHECKLIST.pdf