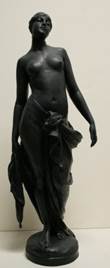 Brütt, Adolf (1855-1939; German)
Half draped female figure 1888
Bronze
Purchased, 1888; de-accessioned and presented to Bendigo, 1943
Bendigo Art Gallery (1943.11A-B)
The artist became a member of the Munich Secession in 1893, and later founded the Weimar school for sculpture and bronze casting. His statues are on display in Munich, Berlin and elsewhere in Germany, and his bronzes appear occasionally on the international art market.
This work was purchased from the Centennial Exhibition held in Melbourne in 1888, and transferred to the Bendigo collection in 1943.
A historic photograph of another, closely similar figure by Brütt, apparently in marble, is titled Phryne, suggesting a possible identification for this bronze. Phryne, a semi-legendary 4th-century BC Greek beauty who was supposedly the muse and lover of the sculptor Praxiteles, fascinated various 19th-century writers and artists, including Gérôme.
Refs.
AR 1889, p.41; SB, p.58 (Bronzes), noting that the work was bought from C.Wagemann at the Centennial Exhibition; an added note, initialed "D.L." [Daryl Lindsay], indicates that it was officially presented to the Bendigo gallery on 15/2/43; NGV 1894, p.67 (II.Stawell Gallery, no.127); NGV 1905, p.71 (II.Stawell Gallery, no.138) [£55]
Many thanks to Mark Orlandi, for confirming that the work is still in the Bendigo gallery and providing the ID photo reproduced here (email correspondence, July 2018). For the artist, see AKL 14 (1996), p.498 and Bénézit 2, pp.1400-1401 (brief entries); and http://en.wikipedia.org/wiki/Adolf_Brütt (with further references and some reproductions), also mentioning a monograph: Cornelius Steckner, Der Bildhauer Adolf Brütt, Husum, 1978 (yet to see). 
For the historic photograph mentioned, see https://www.alamy.com/stock-photo-adolf-brtt-phryne-147394781.html (image ID JFPBF9; accessed 26 Sept.2018). See also Eleonora Cavallini, "Phryne in Modern Art, Cinema and Cartoon" (2007), available online as http://www.mythimedia.org/phrine_in%20_modern_art.html (accessed 26 Sept.2018); and https://en.wikipedia.org/wiki/Phryne (also accessed 26 Sept.2018), with further references, including Helen Morales, "Fantasising Phryne: The psychology and ethics of ekphrasis," The Cambridge Classical Journal 57.1 (2011), pp.71–104