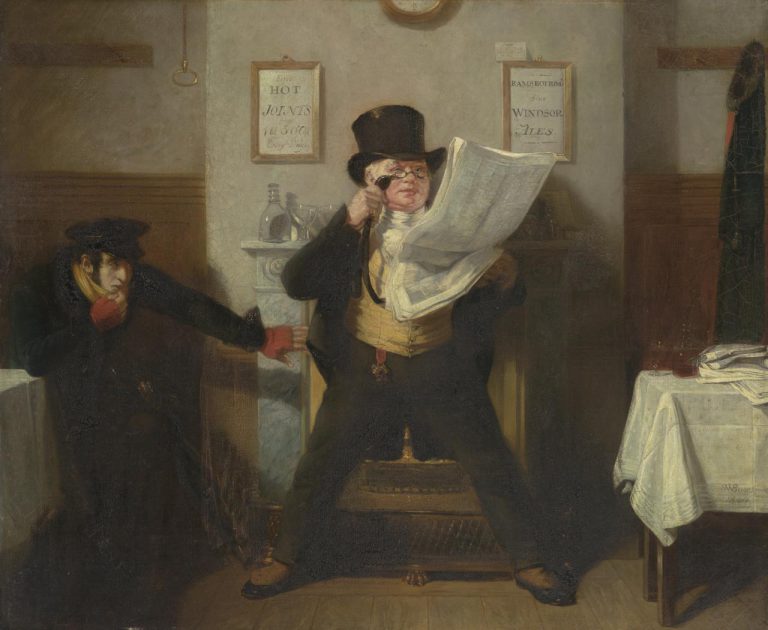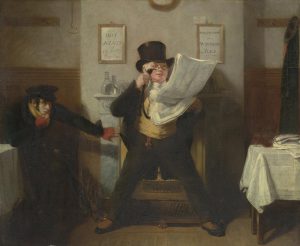 Buss, Robert William (1804-75; English)
The Monopolist 1840
Oil on canvas, 51.1 x 61.0 cm
Purchased, 1877 (advice of Archibald Michie)
National Gallery of Victoria (p.305.10-1)
The artist made his name with illustrative images like this. Indeed, as NGV curator Ted Gott observes, Buss was engaged during the 1830s to produce illustrations for Dickens' Pickwick Papers, and remained an admirer of the novelist throughout his life.
Michie, Victorian Agent-General in London at the time, arranged the purchase of this work in London for a modest sum, having previously donated other works to the Melbourne collection (for details, refer linked entry).
Refs.
Not listed in AR 1877; NGV 1894, p.82 (IV.McArthur Gallery, no.36): NGV 1905, p.92 (III.McArthur Gallery, no.38; ill.) [£18/7/6]
See also Gott 19C (2003), p.26; and the extended analysis by Ted Gott, "Robert Buss, The monopolist and Charles Dickens," Art Journal of Victoria 50 (2011), available online as http://publications.ngv.vic.gov.au/artjournal/robert-buss-the-monopolist-and-charles-dickens/#.VN7vUSicIdw. For the artist, see also AKL 15 (1997), p.337 and Bénézit3, p.89 (both listing the present painting)