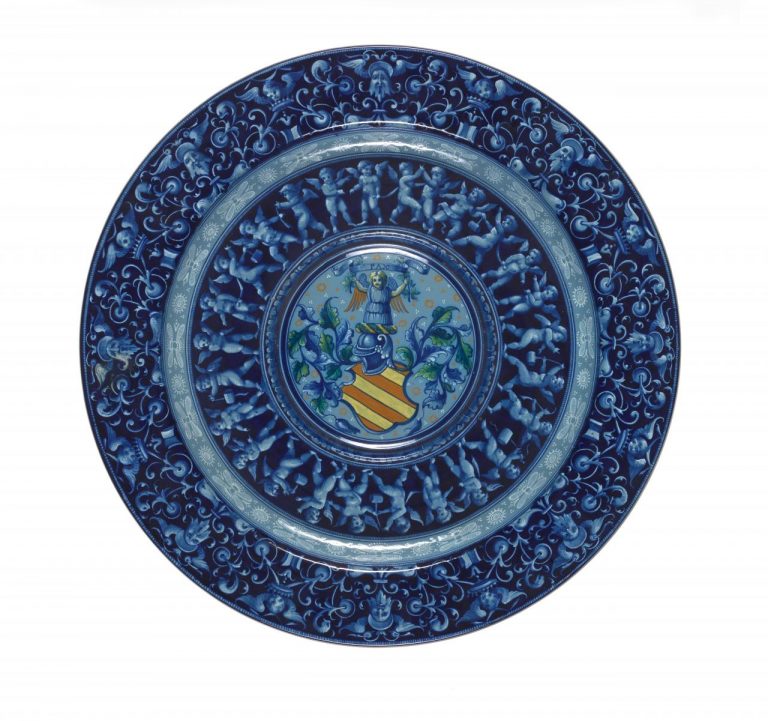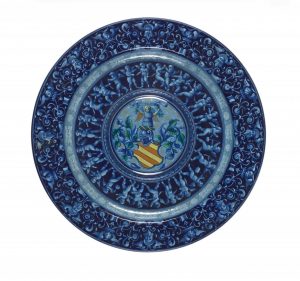 Pre-Felton acquisitions included:
Wall relief (Madonna and Child). Purchased 1893. NGV 1709-D1A
Dish (c.1895). Purchased 1895. NGV 258-D2
Further examples purchased in 1897, 6 of them extant in the NGV (refer catalogue)
[photo: Plate, c.1897 (NGV 372-D2)]
The Manifattura Figli di Giuseppe Cantagalli, Florence, produced maiolica ware in traditional style. The business, which became particularly successful after Ulisse Cantagalli took over in 1878, finally closed in 1987.
The pieces listed above included two "wall reliefs" of the Madonna and Child in the manner of the Della Robbia family. The plates and jugs are decorated with grotesques and other traditional Tuscan motifs.
Several other Cantagalli pieces (no longer extant) may also have been purchased in 1897.
Other examples are held in the V&A.
Refs.
For the works noted above, all with reproductions, see https://www.ngv.vic.gov.au/?type=collection&s=Cantagalli. They are all noted in the NGV's unpublished pre-Felton acquisitions list, along with several other works possibly also by Cantagalli but no longer in the collection 
For the Cantigalli factory, see http://www.archivioceramica.com/FABBRICHE/C/Cantagalli.htm (accessed 18 April 2020); see also V&A catalogue