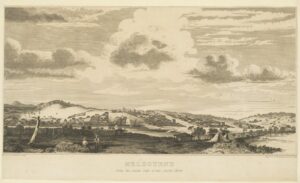 Carmichael, John (1803-57; Scottish/Australian), after Adamson, John (d.1841; Scottish)
Melbourne from the South side of the Yarra Yarra (1839/1881)
Lithograph, 21 x 37 cm
Purchased, 1891
State Library of Victoria (H255)
The 1894 NGV catalogue describes the print acquired in 1891 as a reprint of the original engraving of 1839 (drawn by Adamson, and engraved in Sydney by Carmichael) – presumably the lithographic copy issued in 1881 (details indicated above). The SLV holds various impressions of both the original engraving and the 1881 copy, and another impression of the 1839 engraving was purchased by the NGV in 2011.
Adamson arrived in Australia in about 1825, and died en route to Calcutta in 1841. In 1840, the Port Phillip Gazette praised his images of the first settlement at Melbourne, describing the engraving shown here as "a very correct representation of ancient Melbourne; as it appeared twelve months since."
Refs. 
AR 1891, p.25; NGV 1894, p.117 (V.Buvelot Gallery, 3rd bay, no.63); NGV 1905, p.127 (V.Buvelot Gallery, 3rd bay, no.10) 
The SLV catalogue lists several impressions of the lithograph detailed here (see also H5416), and impressions of the original 1839 engraving (e.g. H563). For the NGV impression, see https://www.ngv.vic.gov.au/explore/collection/work/98177/
For Carmichael, see linked artist entry. For Adamson (not listed in either AKL or Bénézit), see Kerr Dictionary (1992), p.7, and the updated biography in Design & Art Australia online: https://www.daao.org.au/bio/john-adamson/biography/ (1992/2011; accessed 3 Jan.2016), including the passage quoted (from the Port Phillip Gazette of 5 Sept.1840); see also Christine Bell &  Philippa Wallis, commenting on the 1839 engraving in Bunbury This Wondrous Land (2011), p.122 (with a good reproduction of the NGV impression)