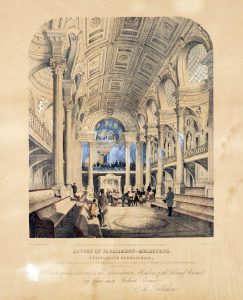 Chevalier, Nicholas (1828-1902; Swiss/Australian) & others
Houses of Parliament, Melbourne: Legislative Council Hall 1856
Lithograph with hand colouring, 29.7 x 24.8 cm (image), 44.7 x 36.3 cm (sheet)
Acquired by 1894 (?)
State Library of Victoria (H15476/2)
Both the 1894 and 1905 NGV catalogues list an impression of this print, without indicating a date of acquisition, but both note that it was lithographed by Cyrus Mason after a drawing by Chevalier, in 1856.
The impression in the SLV, inscribed with the same details, is catalogued by the library as purchased in 1953. But it seems plausible that it may be the work listed in the pre-Felton catalogues, or a second impression. The sheet is somewhat stained.
Refs.
NGV 1894, p.115 (V.Buvelot Gallery, 3rd bay, no.44); NGV 1905, p.133 (V.Buvelot Gallery, 3rd bay, no.50) (neither indicating a date of acquisition) 
For details and reproduction as shown here, see SLV catalogue