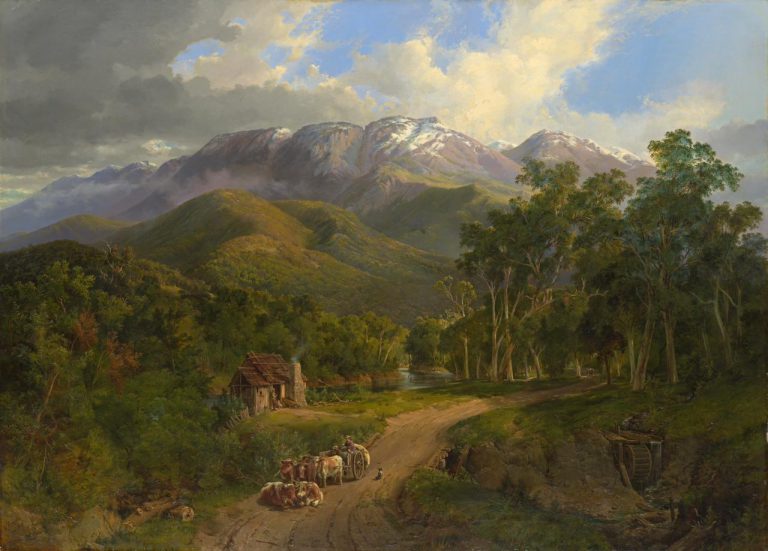 Chevalier, Nicholas (1828-1902; Swiss/Australian)
The Buffalo Ranges, Victoria 1864
Oil on canvas, 132.3 x 183.7 cm
Purchased, 1864
National Gallery of Victoria (p.300.7-1)
Painted a decade after Chevalier arrived in Australia, this painting was the winning entry in a competition held to select the first Australian painting to be purchased for the new Melbourne collection.
It met with a cool response from Redmond Barry who, in a letter to the Chief Librarian Augustus Tulk, regretted that von Guérard had not submitted an entry, and described this painting as "the best of a very poor lot indeed." Some modern writers are also critical of it for its slavish devotion to European conventions; Sasha Grishin, for instance, calls it a "dull, composite picture, [making] few concessions to the Australian reality" (2013).
But, as Christine Downer and Jennifer Phipps point out in the Victorian Vision catalogue (1985), this canvas reflects 1860s discussions about exactly how artists and viewers accustomed to European views and models should address the Australian landscape. Critic James Smith, writing in the Argus in 1864, enthused about the painting's picturesque echoes of Europe. And a few years later, discussing this landscape and others by von Guérard and Buvelot included in the 1866-7 "Intercolonial Exhibition" in Melbourne, various press commentators conducted a lively debate, echoing the Picturesque-Sublime discussion of the previous century, about whether landscape painters should simply record the reality of the Australian bush, or transform it through poetic licence into something richer.
In 1874, adding his own idiosyncratic interpretation, novelist Marcus Clarke famously discussed the present canvas as a perfect example of what he took to be the inherent melancholy of the Australian bush.
Refs.
NGV 1875, p.20; NGV 1894, p.78 (IV.McArthur Gallery, no.21); NGV 1905, p.88 (III.McArthur Gallery, no.23) [£200] 
For this work, frequently discussed, see Cox NGV (1970), 15 (quoting Barry's letter to Augustus Tulk, Jan.1865); Downer & Phipps Victorian Vision (1985), cat.70 and pp.31-32 (contextualizing this work through detailed reference to Melbourne press debates of 1866-67, as noted); McDonald Art of Australia (2008), pp.150-52 (quoting Marcus Clarke); and Grishin Australian Art (2013), pp.105-6, also quoting James Smith's review (Dec.1864)