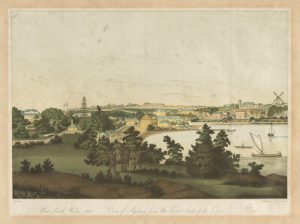 Clark, John Heaviside (c.1771-1863; Scottish), after Eyre, John (1771-after 1812; English/Australian)
View of Sydney, from the East Side of the Cove (nos.1 & 2) 1810/1884
Chromolithograph, 34 x 50 cm
Purchased 1904
State Library of Victoria (H8754) (?)
[photo: no.1]
The two prints catalogued in NGV 1905, which form a continuous view, may be identified tentatively as from the set of four views of Sydney first published in London in 1810, re-issued as chromolithographs by William Dymock in Sydney in 1884, and held in the SLV. However, the SLV's prints are catalogued as accessioned in 1938, and some of the details vary from those listed in NGV 1905, which may have been from a different set.
Eyre was transported to Australia as a convict in 1801, was pardoned in 1804, and worked as a topographical artist in Sydney until he left in about 1812 (not recorded thereafter). Examples of his work are held in the Dixson Library and elsewhere.
Clark, known as an aquatint engraver and landscape painter, worked mainly in London. His biographical dates vary somewhat in different sources. The NGV holds further prints made by him in association with the engraver Matthew Dubourg, acquired in 1993.
Refs.
AR 1904, p.25 (under lithographs, as by Eyre); NGV 1905, pp.131-32 (V.Buvelot Gallery, 3rd bay, nos.35 and 39: as coloured lithographs, published in London in 1810 by John Booth). Bought with * Boys after Martens View of Sydney 1843 {1904} Loc? [PR], for £9/9
See SLV online catalogue, listing a set of 4 prints accessioned in 1938 (see comments above); see also H2219
For Eyre, see http://adb.anu.edu.au/biography/eyre-john-2034 (by Rex Reinits; first published in ADB vol.1, 1966; with further references); Kerr Dictionary (1992), pp.249-50) and https://www.daao.org.au/bio/john-eyre/biography/; and AKL 35 (2002), pp.546-47
For Clark, see Bénézit 3, p.1069; AKL 19 (1998), p.387; and https://en.wikipedia.org/wiki/John_Heaviside_Clark; and for the prints produced by Clark and Dubourg, acquired in 1993, see https://www.ngv.vic.gov.au/explore/collection/artist/11118/, listing Clark's dates as shown above