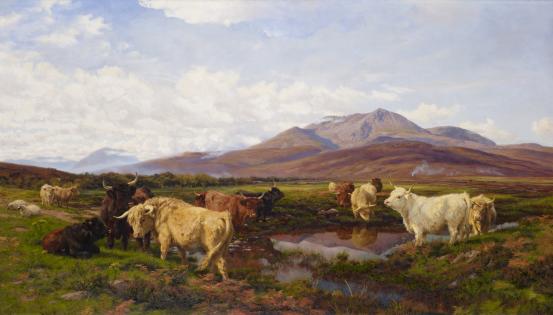 Davis, Henry William Banks (1833-1914; English)
Ben Eay in Sunset Glow 1883
Oil on canvas, 122.3 x 213.5 cm
Purchased 1883
National Gallery of Victoria (p.309.3-1)
This image of cattle in a state of highland bliss, purchased for a significant sum in the year it was painted, appears to be typical of the oeuvre of this artist, who became a Royal Academician in 1877.
His paintings still command substantial prices.
Refs.
AR 1883, p.33; NGV 1894, p.39 (I.La Trobe Gallery, no.50; ill.); NGV 1905, p.11 (I. La Trobe Gallery, no.17; ill.) [£1,600] 
For the artist, see Bénézit 4, p.498 and AKL24 (2000), p.510 (both mentioning the NGV as holding his work); for further examples, see http://www.bbc.co.uk/arts/yourpaintings/artists/henry-william-banks-davis and http://www.christies.com/lotfinder/paintings/henry-william-banks-davis-ra-the-approach-5275428-details.aspx (noting prices paid at Christie's, London, in 2009)