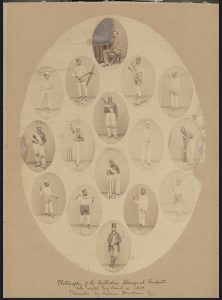 Dawson, Patrick (active 1866-72; Australian)
Photographs of the Australian Aboriginal Cricketers who visited England in 1867 (1867)
Albumen silver photograph, 36.7 x 26.3 cm (oval), mounted
Presented by William Donaldson, 1896
State Library of Victoria (H5233)
The cricket tour involved has been discussed in detail by John Mulvaney and Rex Harcourt. Some of the players, who are shown with their managers, carry boomerangs and other weapons, and wear "ludicrously inappropriate athletics outfits" (as Joan Kerr observes).
Dawson is documented as having worked as a photographer in the Victorian towns of Hamilton and Warrnambool.
Refs.
NGV 1905, p. 136 (V.Buvelot Gallery. 3rd bay, no.71) 
The SLV catalogue entry notes that further information is available in Mulvaney & Harcourt's Cricket Walkabout, 2nd ed., Macmillan, 1988
For Dawson, see Kerr Dictionary (1992), pp.200-201, and http://www.daao.org.au/bio/patrick-dawson/biography/ (updated, mentioning another copy in the Melbourne Cricket Club Museum); and AKL 24 (2000), p.567 (entry by R.Smith)