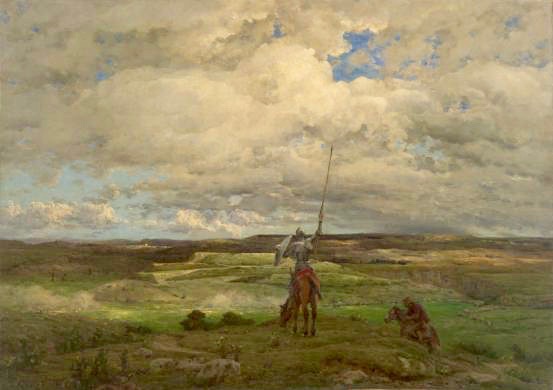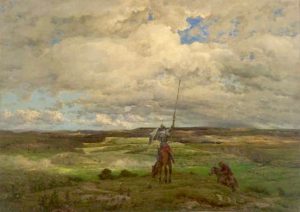 Demont, Adrien-Louis (1851-1928; French)
Don Quixote 1893
Oil on canvas, 111.0 x 156.0 cm
Purchased, 1893 (advice of John Longstaff)
National Gallery of Victoria (p.399.5-1)
This eccentric landscape was one of several paintings selected for Melbourne from the Paris Salon of 1893 by Longstaff, while he was studying and working in Europe after winning the inaugural NGV Travelling Scholarship.
NGV 1894 describes the subject, pointing out details such as the clouds of dust to the left, caused by sheep, but interpreted by Don Quixote as raised by armies. The NGV catalogue suggests that the prominent clouds form "a virtual cavalry" visible only to the deluded knight – and the viewer.
According to Bénézit, interest in Demont was revived by a retrospective held in St-Omer in 1974.
Refs.
SB, p.399; NGV 1894, p.4 (I.La Trobe Gallery, no.2; ill.); NGV 1905, p.5 (I.La Trobe Gallery, no.7; ill.) [£360] 
For Demont, see Bénézit 4, pp.706-7 and AKL 26 (2000), p.88 (both mentioning the NGV); his landscapes still surface occasionally at auction