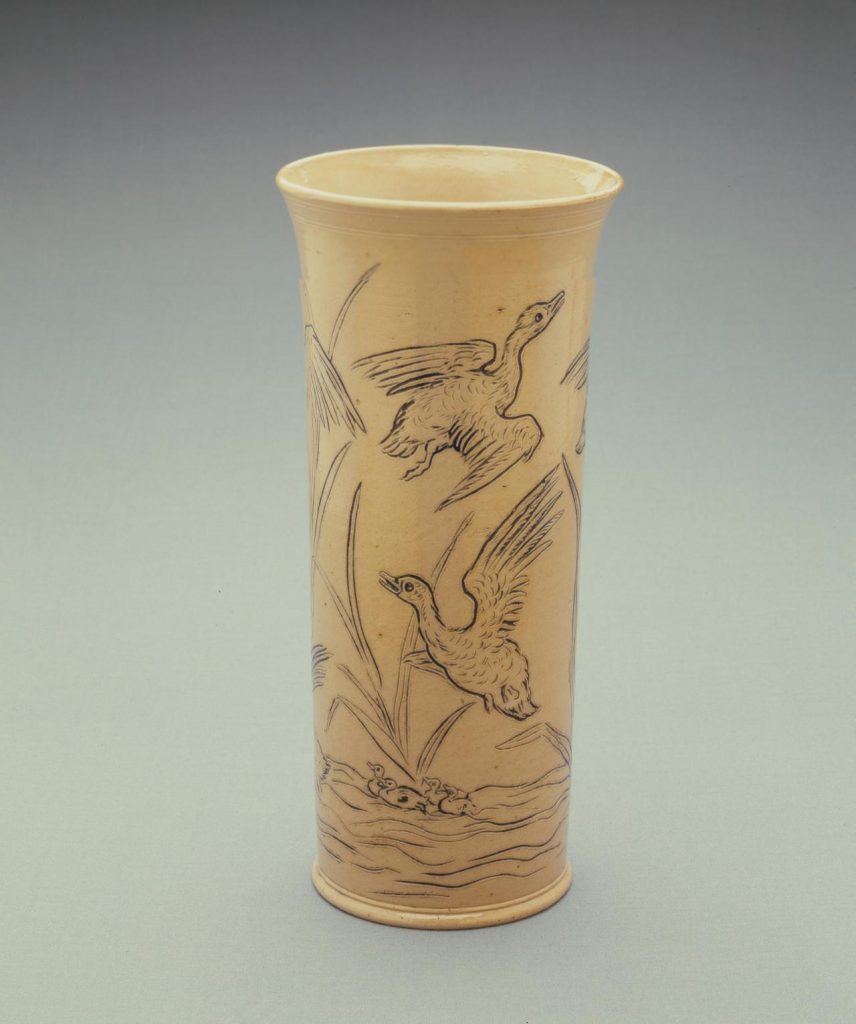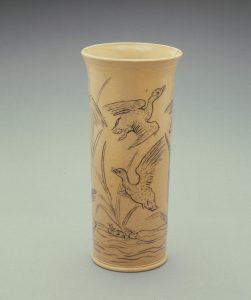 Pre-Felton acquisitions included:
2 vases and a jug, c.1871-4 (decorator Hannah Barlow). Purchased 1886. NGV (refer catalogue)
Miscellaneous pieces, mostly from 1879-80 (various decorators). Purchased 1881. 16 extant in NGV (refer catalogue for details)
[photo above: Vase decorated by Hannah Barlow (NGV 422-D2)]
The company was established in Lambeth, London, by John Doulton and others in 1815, and re-named Doulton & Co. in 1853. A second factory was established at Burslem (Staffordshire) in the late 1870s, specializing in bone china. In 1901, Doulton was granted permission by King Edward VII to use the name "Royal."
The NGV's Annual Report for 1881 lists an unspecified number of "examples of Doulton Ware, Lambeth Faience, and Impasto Ware," bought directly from the company at the Melbourne International Exhibition. A number of these are still in the NGV, as noted above, and again most of the decorators can be identified by their signatures. But it would appear that many other Doulton pieces also bought at the time are no longer in the collection (de-accessioned later?).
The three pieces noted above as purchased in 1886, all decorated by Hannah Barlow, originated in the specialized "art pottery" studio added to the Lambeth factory by John Doulton's son Henry in 1871. This venture, which provided opportunities for artists from the nearby Lambeth School of Art to decorate selected stoneware pieces, was praised by a number of contemporaries including Sir Charles Eastlake. Hannah Barlow (1851-1916) and her sister Florence both worked as decorators at Doulton, sometimes collaborating. The decorators signed their work, as was typical of the Lambeth factory.
Other examples of Doulton ware from both Lambeth and Burslem were acquired for the NGV after 1904 (refer NGV catalogue for details).
Refs.
AR 1881, p.54 (as noted above) 
See NGV online catalogue, e.g. https://www.ngv.vic.gov.au/explore/collection/artist/12383/ (for some of the works acquired in 1881, identifying the decorators involved); see also http://www.ngv.vic.gov.au/explore/collection/work/16863/ (422-D2; as reproduced above); see also Terence Lane, in Lane Decorative Arts (1980), p.79 
For the general history of Doulton, see e.g. http://potteryhistories.com/doultonhistory.html; and for Hannah and Florence Barlow, see https://en.wikipedia.org/wiki/Hannah_and_Florence_Barlow (both accessed 19 April 2020)
See also Menz & Legge, Decorative Arts (2003), p.86, for another product of the Lambeth Art Pottery, acquired in 1979 (Chaucer Vase 1882, decorated by John Eyre: NGV D201-1979; ill.)