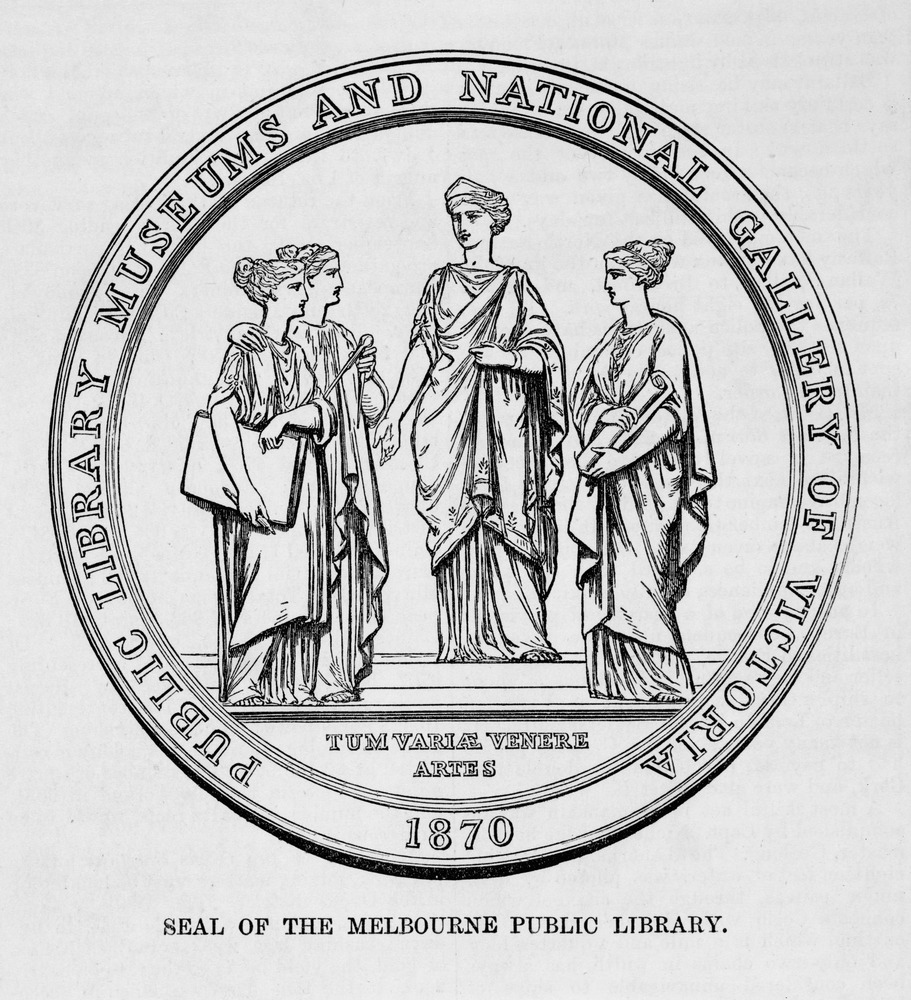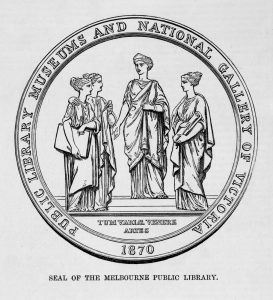 Duckett, Thomas (1839-68; English)
Design for the Seal of the Melbourne Public Library
Size and medium unknown
Acquired by commission, 1868
Present location unknown (lost?)
[photo: wood engraving published in 1870]
Duckett's drawing was  commissioned by Augustus Tulk, on behalf of the Library. The artist is recorded as being disappointed that "the trustees do not intend to have the expense of engraving it" (quoted by Lennon, in Kerr 1992).
The SLV holds a red wax copy of the seal, dated to 1870, but the original drawing does not appear to be extant. A wood engraving based on Duckett's design was published in The Illustrated Australian News for home readers, Dec.5, 1870 (reproduced here).
Duckett trained with his sculptor-father and then at the Royal Academy, before migrating to Australia early in 1866 for reasons of health (he was consumptive). Apparently a talented draughtsman, he was befriended by von Guérard, whose portrait medallion he made and exhibited at the Intercolonial Exhibition in Melbourne in 1866. However, dispirited by the lack of opportunities in Melbourne, he relocated to Launceston and then to Sydney, where he died in April 1868, aged only 29.
Refs.
Not listed in NGV 1894 or 1905; PF no.299 (1868): as by Duckett (acc.no.p.164.9-1) 
For the engraving shown here, see SLV acc.no.IAN05/12/70/208; and for the wax seal, see SLV acc.no.H14207; neither work is attributed to Duckett by the SLV
For the artist, see Kerr Dictionary (1992), pp.223-35 (entry by Jane Lennon), updated in 2011 as  https://www.daao.org.au/bio/thomas-duckett/biography/, including the quote from Duckett's comment on the seal. See also AKL 30 (2001), p.210 (entry by R.Smith) and Bénézit 4, p.1254