Dudgeon, Thomas (c.1804-80?; Scottish)
Dumbarton on the Clyde
Oil on canvas (?), c.50 x 90 cm
Presented by George Macmillan, 1870
Unidentified; present location unknown
Dudgeon is known for various views of Dumbarton on the Clyde, including one apparently in the Glasgow Art Gallery. Several other examples have been auctioned recently (see photo below).
[comparative photo below: View of the Clyde Estuary and Dumbarton Rock 1878)]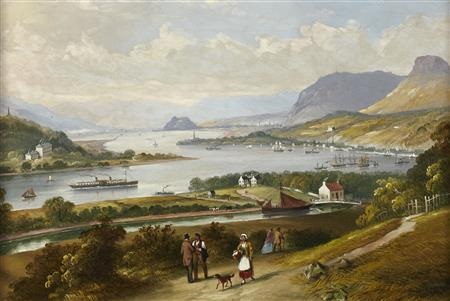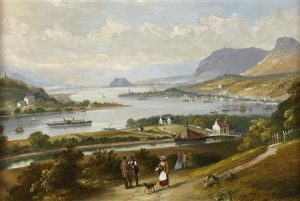 Refs.
AR 1870 (extended version), p.188, Schedule XLIII, noting the size as 1'8" x 3'; not listed in NGV 1894 or 1905 
For the artist, see AKL30 (2001), p.244 (giving the artist's dates as shown above; and mentioning Dumbarton Rock from the Park, 1867, Glasgow Art Gallery); and Bénézit 4, p.1264 (as active between 1831 and 1878)
For examples at auction recently, see Bénézit (including various views of the Clyde); http://www.artnet.com/artists/thomas-dudgeon/dumbarton-rock-from-bowling-m8O0RmV6VNSpr8GRAmi9CA2 (Dumbarton Rock from Bowling, c.1865, oil on canvas, 97.5 x 138 cm); and http://www.artnet.com/artists/thomas-dudgeon/view-of-the-clyde-estuary-and-dumbarton-rock-q0-gTX6EU2voIUzmpVDL5g2 (View of the Clyde Estuary and Dumbarton Rock, 1878, oil on canvas, 31 x 46 cm, both reproduced)