Duntze, Johannes (1823-95; German)
A Norwegian Fjord
Oil on canvas, c.86.4 x 139.7 cm
Purchased, 1875; de-accessioned and sold at auction, 1950
Unidentified; present location unknown
This work was listed in 1894 as on loan to the Bendigo Art Gallery; and later it was recorded as on loan to the Bairnsdale District School of Mines. It was still listed as in the NGV collection in 1943, but was eventually deleted from the collection in 1950.
Duntze painted a number of different variants of this subject, making precise identification difficult. A fjord in Norway, a somewhat smaller, later example, signed and dated 1887, is in the Geelong Gallery (donated by GM Hitchcock, 1900): see reproduction below.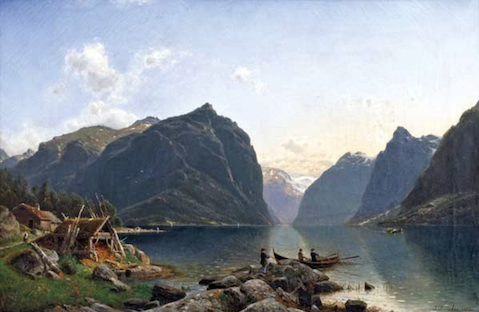 [comparative photo: Duntze's A fjord in Norway 1887 (Geelong Gallery)]
Refs.
AR 1875, p.38; SB, pp.305 (as acquired 1876; with a later note on the 1950 auction) and 521-2 (recording the loan to the Bairnsdale School of Mines, 2/7/1906); NGV 1894, p.94 (IV.60: size given as 34 x 55 inches); NGV 1905, IX.21 (on loan to a country gallery) [£60] 
The work is still listed as on loan to Bairnsdale in the 1929 SLV/NGV Annual Report, p.15 (Schedule IV). The artist is named as "T.Duntze" in the 1894 and 1905 NGV catalogues and the 1929 Annual Report. See also NGV 1943, cat.186
For the comparative canvas reproduced here, see http://collections.geelonggallery.org.au/collections/#details=ecatalogue.566. My thanks to Geoffrey Edwards for assistance in clarifying its history (email correspondence, March 2020)  
For Duntze, see also Bénézit 4, pp.1356-57 (listing several other fjordscapes, under auction details) and AKL 31 (2002), pp.25-26; reproductions of other related works are available on the internet