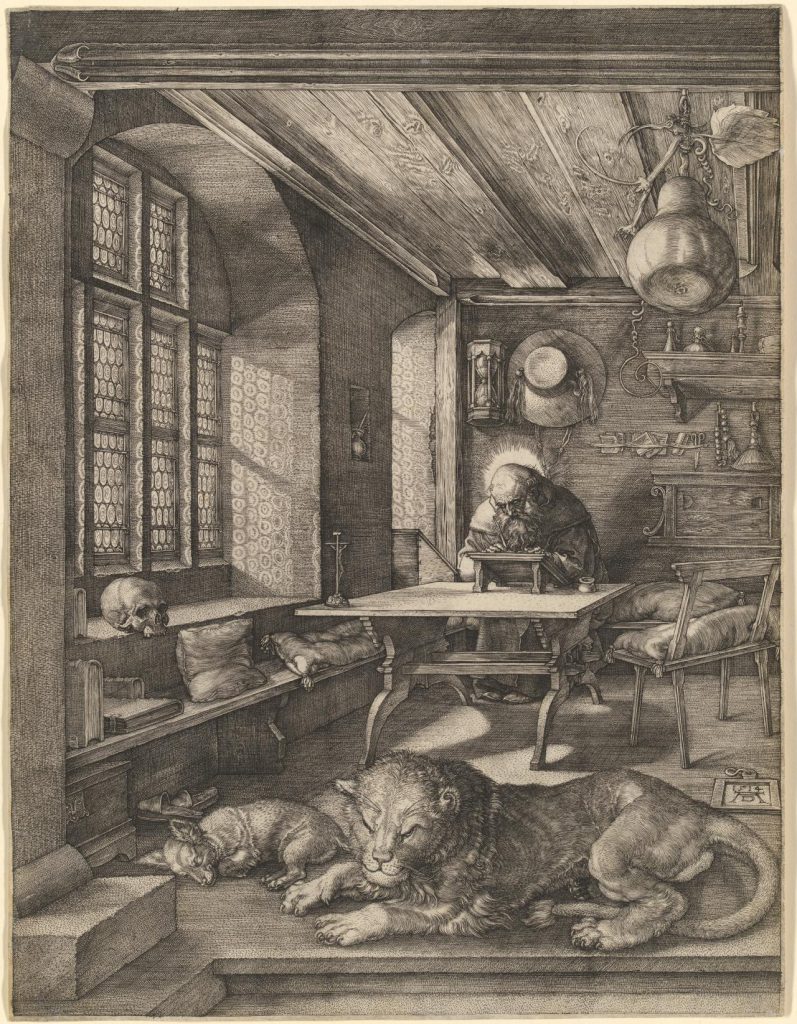 Dürer, Albrecht (1471-1528; German)
St Jerome in his Study 1514
Engraving on paper, 24.3 x 18.5 cm (image)
Purchased, 1891 (advice of Hubert von Herkomer)
National Gallery of Victoria (p.184.12/1)
Here, Dürer achieved remarkable subtlety in suggesting the variety of light and texture through strictly graphic means. The lion, the Church Father's traditional companion, sleeps peacefully in the foreground, as Jerome works on his translation of the Bible.
This impression, at £115 the dearest of the three Dürer engravings bought in 1891, is described by the NGV as less silvery and more heavily inked than the Barlow print acquired in 1956.
Refs. 
AR 1891, p.25; NGV 1894, p.62 (II.Stawell Gallery, no.114); NGV 1905, p.76 (II.Stawell Gallery, no.162) [£115] 
For the Barlow impression, see https://www.ngv.vic.gov.au/explore/collection/work/43320/; cf. Zdanowicz Dürer (1994), p.173 (cat.entry by Cathy Leahy). For a fine account of the artistry of this plate, see Panofsky's 1955 monograph on the artist