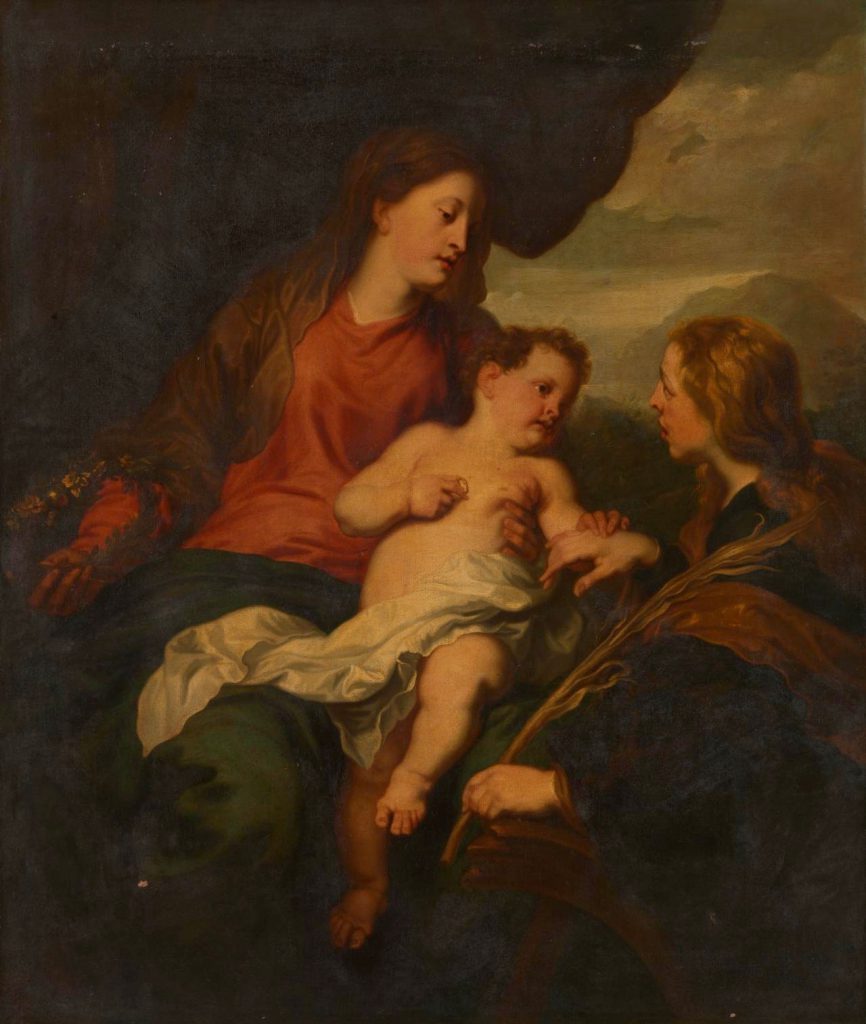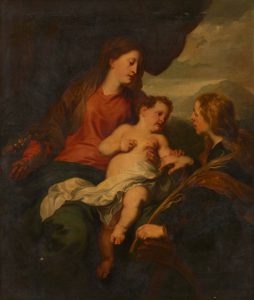 van Dyck, Anthony (1599-1641; Flemish) (after)
Mystic Marriage of St Catherine
Oil on canvas, 142.5 x 120.4 cm
Purchased, 1869 (advice of Alfred Thomson)
National Gallery of Victoria (301.7/1)
This work, bought in London, is a replica of the original canvas in the British royal collection (c.1622-29).
The 1894 NGV catalogue suggested that the Melbourne canvas was painted by one of van Dyck's pupils, and Cox (1970) called it an "old copy." Ursula Hoff was less enthusiastic, simply describing it as "after van Dyck" in her 1995 catalogue of Old Master paintings in the NGV; however, the work is listed in the NGV's current online catalogue as dating from the 17th century.
The varnish on this picture is heavily yellowed, presumably making it more difficult to reach definitive conclusions about the work's quality and probable date.
Refs.
NGV 1894, p.123 (V.Buvelot Gallery, 7th bay, no.12); NGV 1905, p.137 (V.Buvelot Gallery, 4th bay, no.1: ill.) 
For this work, see Hoff (1995), pp.99-100, with details and further references; Merryn Gates (ed.), Re:Creation/ Re-creation: The Art of Copying, 19th & 20th Centuries, Monash University Gallery, 1989, cat.no.48; and Galbally & others, The First Collections (1992), cat.no.19. Cox NGV (1970), pp.25-26 and 423 (n.19), discusses the circumstances of the purchase from Christie's, including Thomson's efforts to compare the copy with the somewhat smaller original in London in 1869, and noting that the canvas was cut down accordingly, after it reached Melbourne