Eschke, Hermann (1823-1900; German)
Freshwater Bay, Isle of Wight 1877
Oil on canvas, c. 68.6 x 89 cm
Purchased, 1881
Unidentified, present location unknown
The NGV 1905 catalogue advises that this canvas was purchased from the 1880 Melbourne International Exhibition.
The painter, whose biographical details are listed in NGV 1894 (noting his appointment as professor at the Berlin Academy in 1881), appears to have specialized in marine landscapes: comparative example reproduced below.
[comparative photo: Mt Orgueil on the Isle of Jersey 1859 (auctioned 2008)]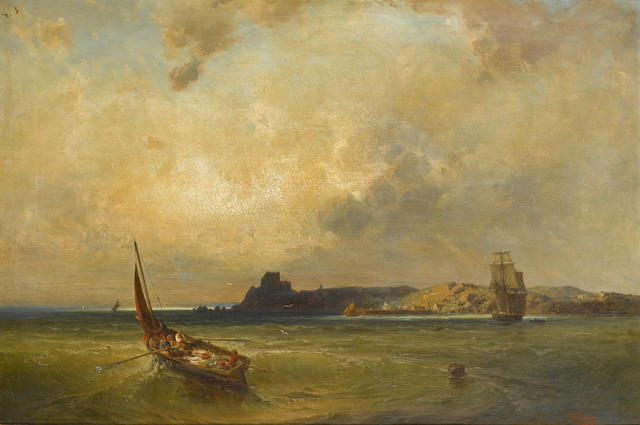 Refs.
AR 1881, p.53; NGV 1894, p.83 (IV.McArthur Gallery, no.41: as measuring 27 x 35 inches); NGV 1905, p.83 (III.McArthur Gallery, no.5) [£90] 
For the artist, see Bénézit 5, p.288 (as Wilhelm Hermann Eschke) and AKL 35 (2002) p.1, both listing the present painting. For other examples of his work, see e.g. http://www.invaluable.com/artist/eschke-hermann-2qolzb5kda and https://www.bonhams.com/auctions/15901/lot/58/ (work reproduced here, auctioned  in London, Feb.2008)