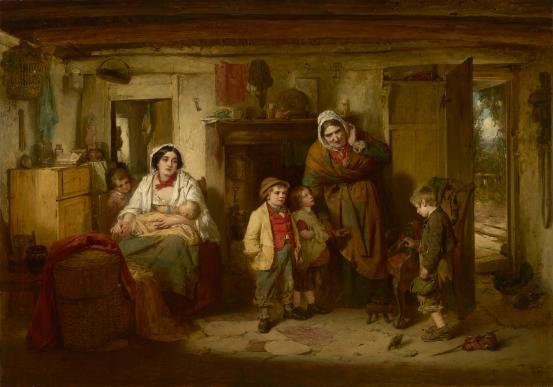 Faed, Thomas (1826-1900; Scottish)
The Mitherless Bairn 1855
Oil on wood panel, 63.2 x 90.0 cm
Purchased, 1886
National Gallery of Victoria (p.311.11-1)
Faed, who moved from Scotland to London in 1852, made his name with this painting, shown to great acclaim at the Royal Academy in 1855. It was bought for Melbourne for £1000 in 1886, and reproduced in both the 1894 and 1905 NGV catalogues.
Discussing examples of Victorian narrative painting by Folingsby and others, Australian critic John McDonald recently derided works like this as "potboilers." But many modern viewers have rediscovered a taste for this genre, the combination of social comment and sentimentality bringing to mind the contemporary writing of Charles Dickens and others.
Specifically, this work was inspired by the eponymous poem by Scottish writer William Thom (1799-1848), quoted in NGV 1894 ("… In their dark hour o' anguish the heartless shall learn / That God deals the blow for the mitherless bairn").
In the catalogue of the "Auld Land Syne" exhibition held in Ballarat in 2014, Alison Inglis reproduces a cartoon from the 1892 Illustrated Australian News, showing "an old-fashioned Scotch couple" studying Faed's work intently, the woman declaring "Ma certes, he was the clever chiel it pentit that."
Inglis also points out that, as late as 1935, Faed's similarly-staged Reading the Bible (1845-6) was donated to the Geelong Art Gallery by a "staunch Presbyterian," suggesting the continuing appeal of traditional imagery to members of the expatriate Scottish community in Australia, well into the 20th century.
Refs.
AR 1886, p.26; NGV 1894, p.5 (I.La Trobe Gallery, no.3: ill.; quoting Thom); NGV 1905, p.3 (I.La Trobe Gallery, no.3: ill.) [£1000] 
Gott 19C (2003), p.27, notes the probable influence of the philanthropist Angela, Baroness Burdett-Coutts (1814-1906), an acquaintance of Faed's. See also McDonald Art of Australia (2003), pp.326-28 (quoted). See also Alison Inglis in For Auld Lang Syne: images of Scottish Australia from First Fleet to Federation, Ballarat: Art Gallery, 2014, p.227, reproducing Faed's NGV painting and the 1892 cartoon, and p.224, for the Geelong Gallery work, donated by Louise McPhillimy
For the full text of Thom's poem, see http://www.bartleby.com/360/1/55.html)
For further information on Faed, see Wood Victorian Painters (1995), vol.I, p.163 (with references); Bénézit 5, pp.406-7and AKL 36 (2003), pp.179-80 (both listing the present work); and http://www.freemanart.ca/faed.htm