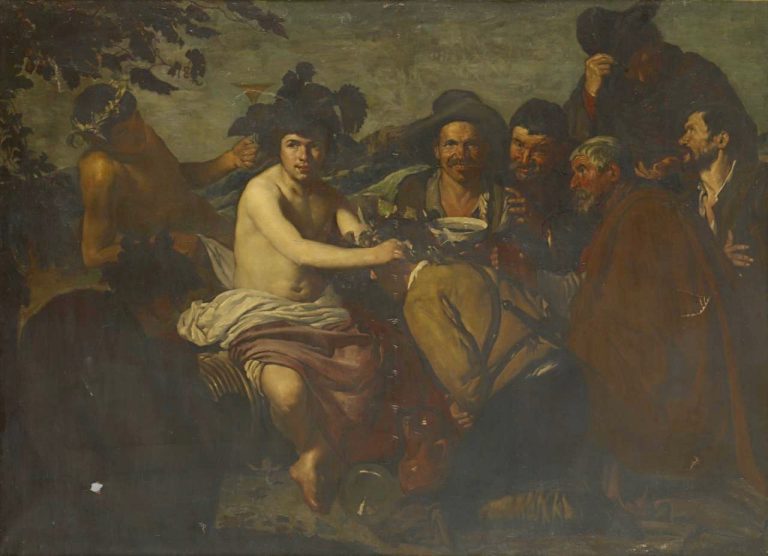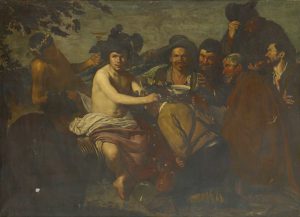 Fox, Emmanuel Phillips (1865-1915; Australian), after Velazquez, Diego (1599-1660; Spanish)
The Topers (Los Borrachos) (1891)
Oil on canvas, 166.4 x 225.6 cm
Purchased with a government grant, 1893
National Gallery of Victoria (p.399.3-1)
The original canvas (Prado, Madrid, 1628-29), also known as The Triumph of Bacchus, was painted for the Spanish king Phillip II, immediately before he appointed Velazquez royal portraitist. The god of wine presides ambiguously over a group of peasants: is he a supernatural visitor, a metaphor for Hapsburg benevolence, or an actor playing a part? The work was restored after damage suffered when the Royal Palace in Madrid was destroyed by fire in 1734. The Spanish nick-name Los Borrachos (meaning "topers" or "drunkards") dates from the 19th century.
Fox painted his copy prior to his return to Melbourne from Europe in 1892, and showed it in his solo show at the Melbourne Art Salon in December 1892, where it was the highest priced work, and the only painting purchased. It is quite dark by comparison with the Prado canvas, which features a vivid contrast between the peasants' earthy tones and the predominantly pink and white figure of Bacchus.
Refs.
NGV 1894, p.52 (II.Stawell Gallery, no.52); NGV 1905, p.109 (IV.Vestibule, no.36) [£100] 
For this work, see Zubans, Phillips Fox (1995), pp.45-46 and 55 (details as noted)
For Velazquez's painting, see Aneta Georgievska-Shine, "Drinking as Gods, Laughing as Men: Velázquez and the Gift of Bacchus," in David Smith (ed.), Parody and Festival in Early Modern Art, Ashgate, 2012, pp.3-37 (available online as http://www.academia.edu/5488986/Velazquez_The_Triumph_of_Bacchus_The_Toppers_Los_Borrachos); and https://www.wga.hu/html_m/v/velazque/02/0210vela.html (including information on restoration of the Prado canvas)