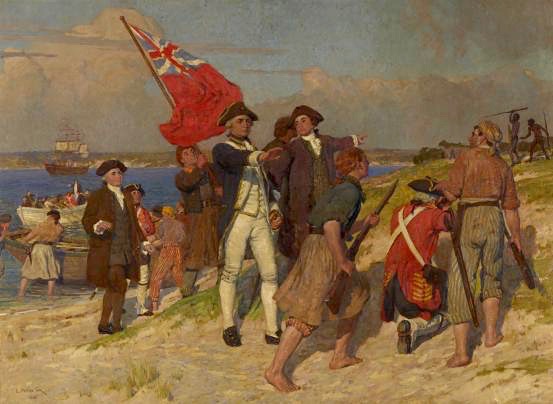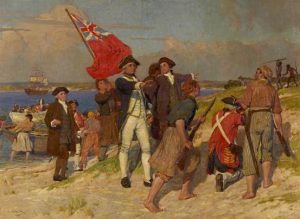 Fox, Emmanuel Phillips (1865-1915; Australian)
The Landing of Captain Cook at Botany Bay, 1770 1902
Oil on canvas, 192.2 x 265.4 cm
Gilbee Bequest 1902
National Gallery of Victoria (119-2)
John McDonald (2008) calls this "without doubt the most lifeless and boring picture Fox ever painted." However Ruth Zubans, in a detailed discussion in her 1995 monograph on Fox, argues that it is marked by "a new freedom demonstrated by the handling of paint in large patches and wide strokes [that] signals later work," and continues: "…the final picture, probably painted relatively quickly, conveys a semblance of spontaneity."
It is true that depicting Significant Australian Events proved troublesome for artists of Fox's generation, including Tom Roberts, Longstaff and others, perhaps due as much to the expectations involved as to the unusual amount of research and planning required.
Another degree of difficulty was added in this case by the idiosyncratic terms of the Gilbee Bequest (1887), which left £1000 for paintings on Australian historical themes, but stipulated that they must be painted in England. When it was unveiled in London in July 1902, though, the canvas received high praise from the other Australian expatriates there, notably Streeton, who wrote enthusiastically about it to Roberts.
Finally, it seems impossible to view this work now without considering its underlying colonial attitudes and assumptions, matters given thorough attention by recent commentators and artists. Particularly notable are several works by Australian painter Gordon Bennett (1955-2014), e.g.Terra Nullius (1989) and Possession Island (1991), where images of Cook are juxtaposed directly to Australian Aboriginal imagery.
Refs.
AR 1902, p.18; NGV 1905, p.84 (III.McArthur Gallery, no.9) [£700] 
For a thorough analysis, see Zubans, Phillips Fox (1995), pp.97-100 (quoted; also citing Streeton's letter to Roberts). For recent remarks, see also  McDonald, Art of Australia, vol.1 (2008), p.611 (quoted); Grishin, Australian Art (2013), pp.152-55; and Margaret Plant, Love and Lament: an essay on the arts in Australia in the twentieth century, Thames & Hudson, 2017, p.15.
For Gilbee, see AR 1902, pp.5-6, and linked donor entry, also mentioning another major work funded from the Gilbee Bequest (but completed after 1905, and hence not catalogued here), Longstaff's The Arrival of Burke, Wills and King at the deserted camp at Cooper's Creek… (1907): see http://www.ngv.vic.gov.au/col/work/5865; Margaret Plant (2017), as cited above, calls it "the most lugubrious Australian painting, and one of the biggest." For Tom Roberts' even larger Opening of the First Parliament of the Commonwealth of Australia… (1903), see e.g. http://www.aph.gov.au/Visit_Parliament/Parliament_House_Art_Collection/Tom_Roberts_Big_Picture

See also Ian McLean, The art of Gordon Bennett, Roseville: Craftsman House, 1996, for analysis of Bennett's works mentioned above