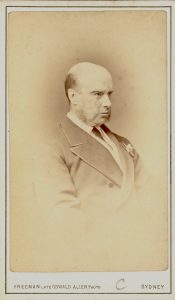 Freeman Brothers & Prout (active c.1866-c.1888)
Sir Hercules Robinson 1873
Albumen silver photograph (carte-de-visite), 10.7 x 6.5 cm
Presented by the sitter, 1874
State Library of Victoria (H29559)
The NGV's annual report for 1874 notes the donation of a portrait photograph of himself by Robinson (1824-97; NSW Governor, 1872-79) – possibly the carte-de-visite listed here.
This was probably also one of the two unidentified portraits of Robinson listed in NGV 1894, the other presumably being his oval portrait (by Thomas Chuck, also dating from 1874): see Oval Portrait series.
James Freeman (1814-70) and his brother William (1809-95) migrated from England in 1853-4, and set up a successful photography business in Sydney, working in partnership with Victor Prout (b. 1835) from 1866 onwards.
Refs.
AR 1874, p.36 (listed under Donations, without naming the photographer/s); possibly NGV 1894, p.101 or p.103 (V.Buvelot Gallery, 1st bay, no.34 or 64) 
For details on James and William Freeman, see the biographies by Iris & Keast Burke in http://adb.anu.edu.au/biography/freeman-james-3896 (ADB vol.4, 1972); and Tim Robinson in Kerr Dictionary (1992), pp.276-78, revised in 2011 as https://www.daao.org.au/bio/james-freeman/biography/; see also Davies & Stanbury Mechanical Eye (1985), pp.66-67.
For Robinson, see http://adb.anu.edu.au/biography/robinson-sir-hercules-george-4493 (by Bede Nairn, first published in ADB vol.6, 1976)