Gibbs, James (19th-century British)
Four landscape drawings
Ink/sepia on paper, various sizes
Purchased, 1886
Unidentified; present location unknown
As listed in the NGV's annual report for 1886, these drawings were as follows:
(i) Menai Straits, North Wales (Indian ink, 6" x 9")
(ii) Conway Castle (Indian ink, 5 3/8" x 7 ½")
(iii) Brockley Castle, Somerset (Sepia, 8" x 11 ½")
(iv) Hampton (Sepia, 10 ½" x 7 ¾")
None is mentioned in NGV 1894 or 1905, nor in the current NGV and SLV catalogues.
The identity of the artist is unclear, but the most likely candidate appears to be a J.Gibbs (British, 19th century) listed as a landscape painter by Bénézit, mentioning two landscape drawings dating from the 1830s, one a scene in North Wales, as held in the Leeds Art Gallery (this has yet to be verified). Other works by him appear regularly on the secondary market in Britain, including the painting of the Menai Straits reproduced here.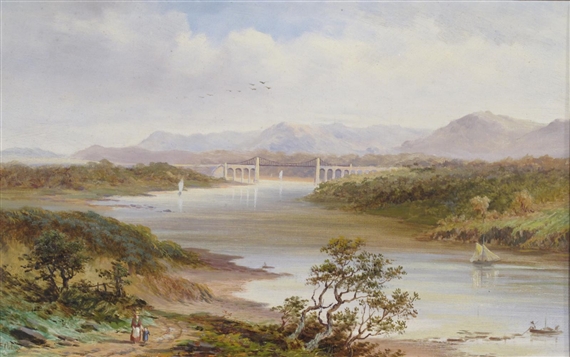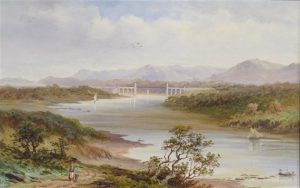 [comparative image: View of the Menai Straits (auctioned 2011)]
Refs.
AR 1886, p.26 (details as listed above). Not listed in NGV 1894 or 1905 
See Bénézit 6, p.143, as noted above, for the artist probably responsible. For the work reproduced above, see https://www.mutualart.com/Artwork/2works–View-of-the-Menai-Straits–Cattl/61C660A0458CC5BA (oil on canvas, 25.5 x 45.5 cm; auctioned by Woolley & Wallis, Wiltshire, 7 Dec.2011)