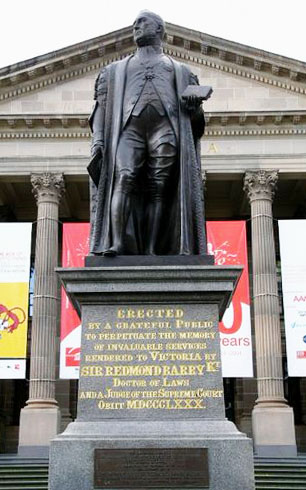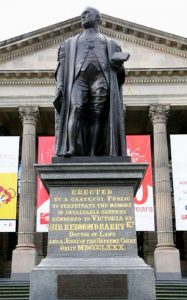 Gilbert, James (1830-85; Irish/Australian), & Ball, Percival (1845-1900; English)
Sir Redmond Barry 1887
Bronze, 2.97 m high
Commissioned in 1883 by the Committee of the Barry Memorial Fund; accessioned in 1887
State Library of Victoria, forecourt
This posthumous statue of Barry (1813-80), shown wearing his official robes as Chancellor of the University of Melbourne, commemorates his key role in the foundation and early development of the Victorian Public Library.
Commissioned from James Gilbert in 1883, the figure was completed in 1886-7 by Percival Ball, following Gilbert's death. The SLV collection includes an 1883 photograph by Nicholas Caire (1837-1918) of Gilbert's original model.
See the linked entry on Barry, for other portraits of him in the pre-Felton collection, and further information on his career.
Refs.
AR 1887, p.35; SB, p.57 (Bronzes), noting the work's estimated value as £2,500; not catalogued in NGV 1894 or 1905
For further details and references, see http://guides.slv.vic.gov.au/c.php?g=245295&p=1633312. The photo shown here (edited) is from http://monumentaustralia.org.au/themes/people/legal/display/32497-sir-redmond-barry. Caire's photo of the model (SLV H96.160/270) was transferred from the Victorian Patents Office, c.1908