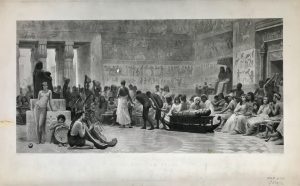 Girardet, Edouard (1819-80; Swiss), after Long, Edwin (1829-91; English)
An Egyptian Feast 1879
Engraving, c.48.2 x 87.5 cm (plate)
Purchased 1883
National Gallery of Victoria (p.183.231-1)
Both Long and Girardet are identified in the inscriptions below the image.
Long's original painting, dating from 1877, is in the Bradford Art Gallery. It typifies his lavish Orientalist style at its most expansive.
Bénézit notes that Girardet worked in Paris from 1857.
Refs.
AR 1883, p.33; NGV 1894, p.106 (V.Buvelot Gallery, 2nd bay, no.12); not listed in NGV  1905 
See  (not illustrated; listed incorrectly as after Chin-San Long); author's ID photo reproduced here
For Girardet, see Bénézit 6, p.264