Glover, John (1767-1849; English/Australian)
Tasmanian Landscape
Watercolour, c. 17.78 x 24.13 cm
Purchased, 1900
Unidentified; present location unknown
This small watercolour, purchased locally for a modest sum in 1900, no longer seems to be in the NGV or SLV, and identification is difficult, in the absence of a photograph.
This is the only Glover recorded in the Melbourne collection prior to 1904/5, although a number of his works have entered the NGV since. These include examples from his earlier years in England (to 1831), and also significant works from his later years in Australia, including works on paper. Other watercolours appear regularly on the art market.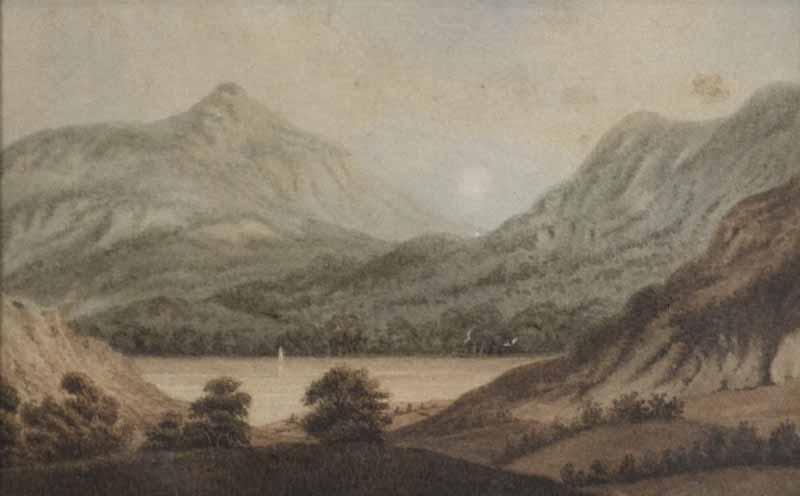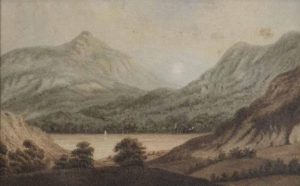 [comparative watercolour by Glover: View of Cradle Mountain… (auctioned 2014)]
Refs. 
AR 1900, p.29; NGV 1905, p.48 (II.Stawell Gallery, no.45; size noted as 7" x 9½") [£6/6]
For Glover, see Bénézit 6, pp.337-38; Kerr Dictionary (1992), pp.302-5 (entry by John McPhee); AKL 56 (2007), pp.230-32 (entry by R.Smith; with further references); and Grishin Australian Art (2015), pp.72ff.; and, for the works now in the NGV, https://www.ngv.vic.gov.au/explore/collection/artist/1870/. For the comparative work reproduced above, see Australian Art Sales Digest (available online): watercolour, 13 x 20.5 cm, auctioned by McKenzies Auctioneers, Perth, 10 June 2014, lot 8 (noting Glover family provenance)  
For comments on Glover as a watercolourist, see Mallalieu (1976), p.112, noting the artist's "individual use of the split-brush technique," especially when depicting foliage