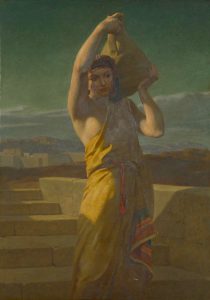 Goodall, Frederick (1822-1904; English)
Rachel Going to the Well 1867
Oil on canvas, 153.5 x 109.0 cm
Purchased, 1867
National Gallery of Victoria (p.300.12-1) 
Goodall, a member of a family of artists, pursued a highly successful career, specializing mainly in Egyptian subjects.
NGV 1894 and 1905 both state that this work is a replica, commissioned by the Commissioners of Fine Arts for Victoria (who ordered other replicas from Long and other British artists of the day).
However, recent opinion suggests that this canvas may actually be the original painting shown at the Royal Academy, as noticed in the London Times, 4 May 1867 (see now Crowther 2014).
Goodall evidently made several versions of this composition at the time: there are two smaller canvases, both also dated 1867: one, auctioned in London in 2013, is now in the Crowther-Oblak Collection of Victorian Art (Ljubljana, Slovenia); the other, only about half the size of the NGV picture, was auctioned by Bonhams in London, in January 2015.
The NGV canvas, the only extant large-scale example among these variants, was apparently popular with 19th-century visitors, an enthusiastic Argus writer describing it in 1869 as an "almost faultless" image of ideal womanhood. For the subject, Rachel as first glimpsed by Jacob, see Genesis ch.29.
Ref.
NGV 1879, p.21; NGV 1894, p.88 (IV.McArthur Gallery, no.48; ill.); NGV 1905, p.98 (III.McArthur Gallery, no.58) 
For the present picture, see Galbally & others, The First Collections (1992), pp.56-57, cat.no.15 (citing the Times and Argus reports mentioned)
The Crowther-Oblak painting, measuring 76 x 55.2 cm, is discussed in http://www.victorianweb.org/victorian/painting/goodall/paintings/8.html: text by Paul Crowther, from his 2014 exhibition catalogue Awakening Beauty: The Crowther-Oblak Collection of Victorian Art, Ljubljana: National Gallery of Slovenia; Galway: Moore Institute, National University of Ireland, 2014, cat.35, also comparing the other versions mentioned, and suggesting that the NGV canvas was the work shown at the RA in 1867. For the Bonhams version, see https://www.bonhams.com/auctions/22266/lot/68/ (originally listed as "The water carrier," then amended to "Rachel"; as 76.5 x 56.5 cm; also mentioning the NGV work, and the RA exhibit)
For the artist, see Bénézit 6, pp.441-42; AKL 58 (2008), p.397; http://en.wikipedia.org/wiki/Frederick_Goodall; and http://en.wikisource.org/wiki/Goodall,_Frederick_%28DNB12%29 (biography by Frank Gibson, from the British Dictionary of National Biography, 1912 Supplement)