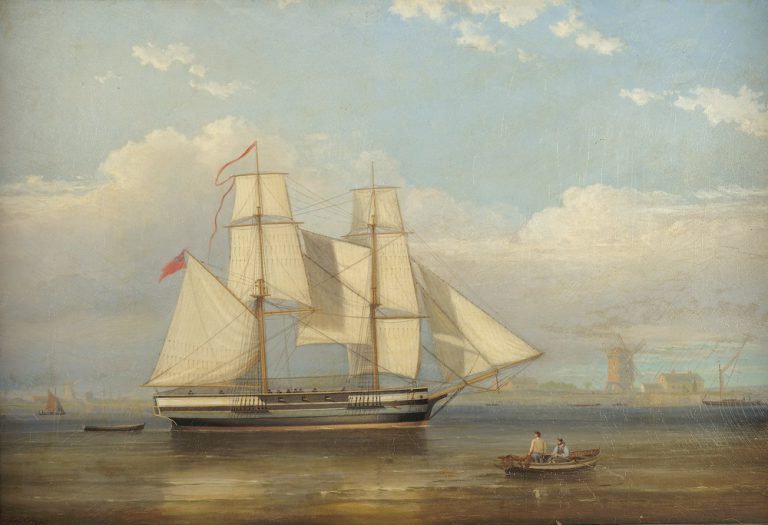 Gregory, George Frederick, Senior (c.1824-87; English/ Australian), and/or Gregory, George Frederick, Junior (1857-1913; Australian) 
The "Lady Nelson" 1879
Oil on canvas, 35.0 x 52.3 cm (sight)
Gift of Commodore Wilson, R.N., 1880 
State Library of Victoria (H17009)
The 1894 and 1905 NGV catalogues, both simply listing this work as by G.Gregory, explain that the vessel shown was the one in which Acting-Lt John Murray discovered and entered Port Phillip Heads in February 1802, and indicate that the painting was based on an 1803 engraving showing the ship in the Thames.
George Frederick Gregory, Senior, from Cowes, on the Isle of Wight, is documented as working as a marine painter in Melbourne from 1854 onwards, establishing a family business continued after his death by his son Arthur.
G.F.Senior (sometimes incorrectly called Charles) had several sons, all of them apprenticed to their father. In a detailed recent study, Alexander Ibels (2011) suggests that the most significant marine painter in the family was G.F.Gregory, Junior, who was born and grew up in Melbourne, and is documented as an independent marine painter in South Australia from 1888-95.
The SLV lists the present work as by G.F.Gregory Junior. However, given the style and inscribed date, it may more plausibly be seen either as the work of his father, or a collaboration (according to Ibels, G.F.Gregory Senior signed all products of the workshop until his death).
Elaine Meehan, in her entry on G.F.Gregory Senior in Joan Kerr's Dictionary of Australian Artists (1992), reproduces an 1867 example in the Mitchell Library, apparently typical of his output, comprising accurate profile images of vessels at anchor, not unlike the present work. To judge from the 1880s-90s works reproduced by Ibels, G.F.Gregory Junior favoured a more dramatic manner, often featuring ships in rough seas, or shipwrecks.
Refs.
AR 1880, p.74; NGV 1894, p.116 (V.Buvelot Gallery, 3rd bay, no.55); NGV 1905, p.135 (V.Buvelot Gallery, 3rd bay, no.62) 
See SLV catalogue for details and photo for the work shown, noting that it is signed and dated. Alexander Ibels, "George Frederick Gregory Jr (1857-1913)," The Great Circle: Journal for the Australian Association for Maritime History, vol.33, no.2 (2011), pp.23-42 (available online), corrects a number of previous errors regarding his life and work, and confirms the biographical dates shown above (as against the variant details given in the SLV catalogue and elsewhere).  
For G.F.Gregory Senior, see Elaine Meehan in Kerr Dictionary (1992), pp.322-23; however, Ibels (p.24) points out that the Charles D.Gregory confused with G.F.Gregory Senior in Meehan's entry was actually a different artist specialising in ornithological images. See also AKL 61 (2009), p.372, for entries on both G.F.Gregory Senior and Junior, by R.Smith; and further examples (by both father and son?) listed in the catalogue of the State Library of NSW
For Murray, see http://adb.anu.edu.au/biography/murray-john-2496 (biography by Vivienne Parsons; from ADB vol.2, 1967)