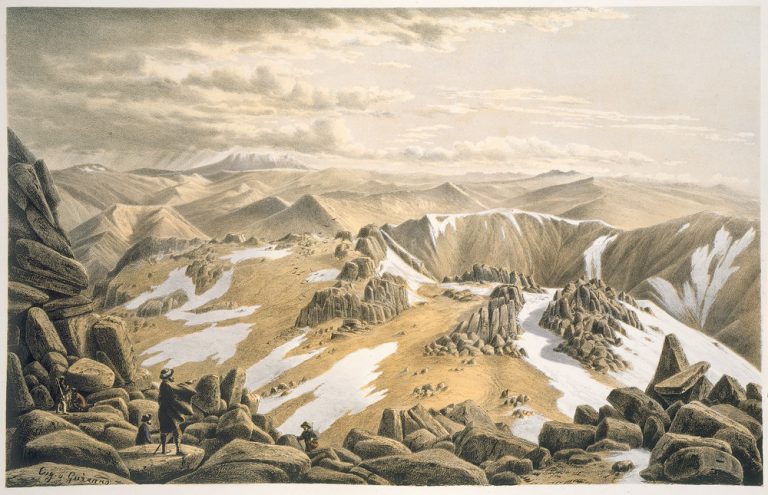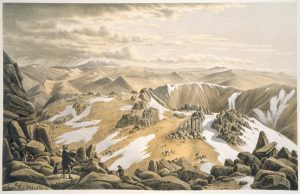 Guérard, Eugène von (1811-1901; Austrian/ Australian)
Australian Landscapes [nos.1-24] (1866-68)
Chalk lithographs, tint stones on cream paper, each 30.0 x 48.5 cm, on sheet 50.6 x 68.7 cm (approx.)
Acquired 1868
State Library of Victoria (H25840 etc.) [PCLTEFBOX GUER F.1-24]

[photo: Plate 4: North East View from the top of Mt.Kosciusko. NSW (SLV H25837)]
This series of prints was published by Hamel & Ferguson, Melbourne, to the artist's instructions.
The full title reads: Eugéne von Guérard's Australian Landscapes: a series of 24 tinted lithographs illustrative of the most striking and picturesque features of the landscape scenery of Victoria, New South Wales, South Australia & Tasmania; drawn from nature and lithographed by the artist with letter press description of each view (see below for details of individual prints)
Most of the plates were based on earlier compositions by the artist – for example, the print reproduced here references his well-known 1863 canvas now in the NGA, Canberra.
A complete second set (apparently no longer extant in the SLV or NGV, and not listed here) is recorded as acquired in 1869. Another set, bound in an album, was acquired by the NGV in 1959. Other sets are held in the NGA and elsewhere; and the artist's own annotated proof copies are held in the National Library, Canberra.
In order, the prints are as follows (refer SLV catalogue for individual catalogue nos.): Plate 1. Source of the Wannon Plate 2. The valley of the Ovens River Plate 3. Fall of the first creek near Glen Osmond, S.A. 1855 Plate 4. North east view from the top of Mt Kosciusko, N.S.W. Plate 5. Castle Rock, Cape Schanck Plate 6. Hobart Town Plate 7. Weatherboard Falls, N.S.W. Plate 8. Murray River – Moorundi Plate 9. Junction of the Buchan and Snowy Rivers (Gippsland) Plate 10. Ben Lomond, Epping Forest (Tasmania) Plate 11. Crater of Mount Gambier, S.A. Plate 12. Lake Illawarra (N.S.W.) Plate 13. Ferntree Gully, Dandenong Ranges. (Victoria) Plate 14. South end of Tasman's Island Plate 15. Cabbage Tree Forest, American Creek (N.S.W.) Plate 16. Crater of Mount Eccles (Victoria) Plate 17. Top of Mount Lofty near Adelaide Plate 18. Cataracts near Launceston (Tasmania) Plate 19. Moroka River Falls (Foot of Mount Kent) (Gippsland) Plate 20. Mount Kosciusko from the north west, N.S.W. Plate 21. Reedy Creek Falls near Beechworth Plate 22. Sydney Heads – New South Wales Plate 23. Forest, Cape Otway Ranges Plate 24. Goulbourn River, near Shepparton
Refs.
NGV 1894, p.113 (V.Buvelot Gallery, 3rd bay, nos.22 & 24: Source of the Wannon and Fall of the First Creek near Glen Osmond, S.A. [Plates 1 & 3, as listed above]) 
See SLV catalogue, under "Eugene von Guerard's Australian Landscapes" (individual prints catalogued separately).
The second set mentioned is listed in the NGV's unpublished list of pre-1905 acquisitions under 1869 (nos.420-43: acc.nos.p.92.25-1 to p.92.48-1). For the set acquired by the NGV in 1959 (acc.no.134-5), see https://www.ngv.vic.gov.au/explore/collection/work/28555/