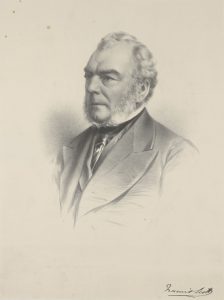 Hanhart, M. & N. (active c.1839-82; English)
The Hon.Francis Scott
Lithograph, 42.0 x 31.5 cm
Presented by G.W.Rusden, 1893
State Library of Victoria (H5242)
The sitter (1806-84), a British MP, was appointed Parliamentary Agent for Victoria in 1844, according to NGV 1905. Modern historical accounts, which refer to him as Parliamentary Agent for New South Wales (to 1855), focus on his significant role in the early development of self-government in Australia.
Numerous lithographed portraits by the Hanharts are preserved, especially in the National Portrait Gallery, London.
Refs.
NGV 1894, p.127 (V.Buvelot Gallery, south wall, no.7); NGV 1905, p.151 (V.Buvelot Gallery, south wall, no.6) 
See SLV catalogue for details and reproduction as shown here. For Scott, see e.g. Helen Irving (ed.), The Centenary Companion to Australian Federation, Cambridge UP, 1999, p.24, and Frederick Madden & others (ed.), Settler Self-Government, 1840-1900… (Select Documents on the Constitutional History of the British Empire and Commonwealth, Volume IV), Westport, Conn.: Greenwood Press, 1990, p.493n
The lithographic firm founded by Michael Hanhart (1788-1865) was based in London: see http://www.npg.org.uk/collections/search/person/mp54755/m–n-hanhart