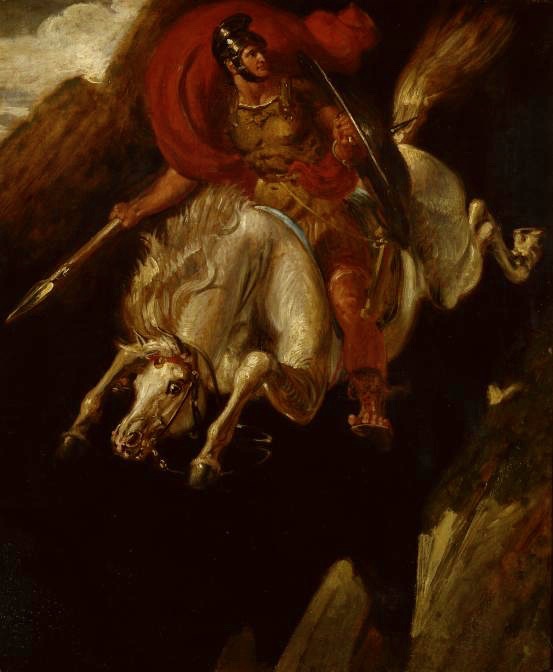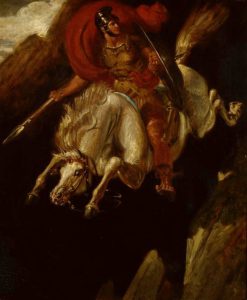 Haydon, Benjamin Robert (1786-1846; English)
Marcus Curtius 1843
Oil on canvas, mounted on board, 76.5 x 63.5 cm
Purchased, 1897 (advice of Bernard Hall)
National Gallery of Victoria (40/2)
This canvas, purchased in Melbourne in 1897, for a modest sum, was first brought to Australia in the late 1840s by Richard Twentyman, a London businessman who was a patron of Haydon's during his later years.
It is described in the 1897 Annual Report and in NGV 1905 as a "sketch" for Haydon's large canvas (Royal Albert Memorial Museum, Exeter, 1842), which depicts an act of heroic self-sacrifice from the legendary early history of ancient Rome. Ursula Hoff (1995) suggests that the Melbourne painting, signed and dated 1843, may be identical with a "sketch done of Curtius," mentioned in Haydon's diary in June 1843.
The artist himself committed suicide in 1846, despondent after various setbacks, including criticism of his large painting of this subject.
Refs.
AR 1897, pp.26 and 28; NGV 1905, p.141 (V.Buvelot Gallery, 6th bay, no.10) [£5/10] 
Hoff (1995), pp.141-2, provides provenance and other details, including the indication that Twentyman was a patron of Haydon's; and also noting that the work was included in the loan exhibition held at the NGV in 1869 (cat.no.3). See also Gott 19C(2003), pp.30-31 (entry by Laurie Benson)
For the 1842 canvas, and Haydon's death, see http://www.rammuseum.org.uk/collections/fine-art/a-gallery-in-the-gardens/curtius-leaping-into-the-gulf; for Haydon, see also Bénézit 6, p.1264 (listing the NGV work) and AKL 70 (2011), pp.355-58