Hegg, Teresa (1829-1911; Swiss)
Two flower paintings
Watercolour, each c. 43 x 33 cm
Purchased 1878
Unidentified; present location unknown
"Madame Hegg" (as she is described in the NGV's Annual Report for 1878) commanded a substantial reputation during the 19th century. Her nationality is given variously as Swiss or British. She was a member of the British Royal Society of Watercolour Painters, exhibiting there regularly from 1872.  
Examples of her still life watercolours still circulate on the international art market. However, there appears to be no trace of the pair of works bought for Melbourne in 1878.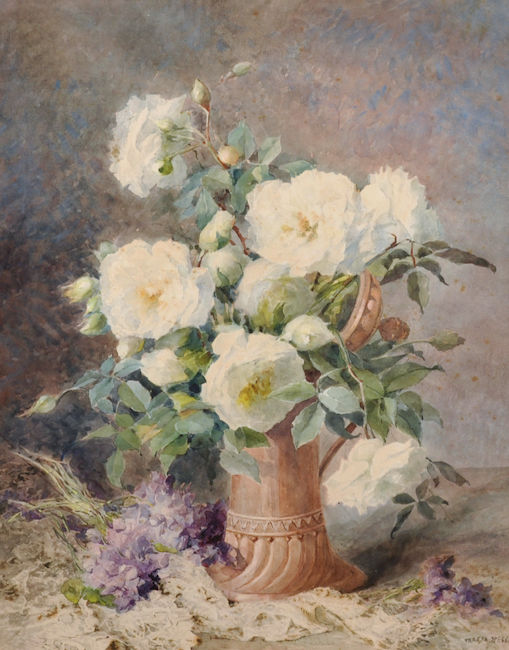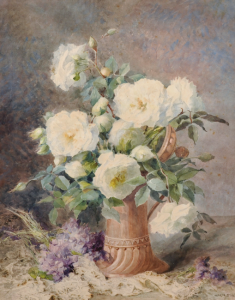 [comparative watercolour: Still Life of Flowers in a Brown Vase (auctioned 2019)]
Refs.
AR 1878, p.50 (size given as 17 x 13 inches); not listed in NGV 1894 or NGV 1905 
For the artist, see Bénézit 8, p.391 (under Landerset, her maiden name) and AKL 71 (2011), pp.91-92 (with further references). For the comparative work reproduced here, see https://www.invaluable.com/auction-lot/maria-teresa-hegg-1829-1911-british-still-life-220-c-063496aa55 (as sold by John Nicholson Fine Art, Haslemere, UK, 21 July 2019; size given as 24″ x 18″)