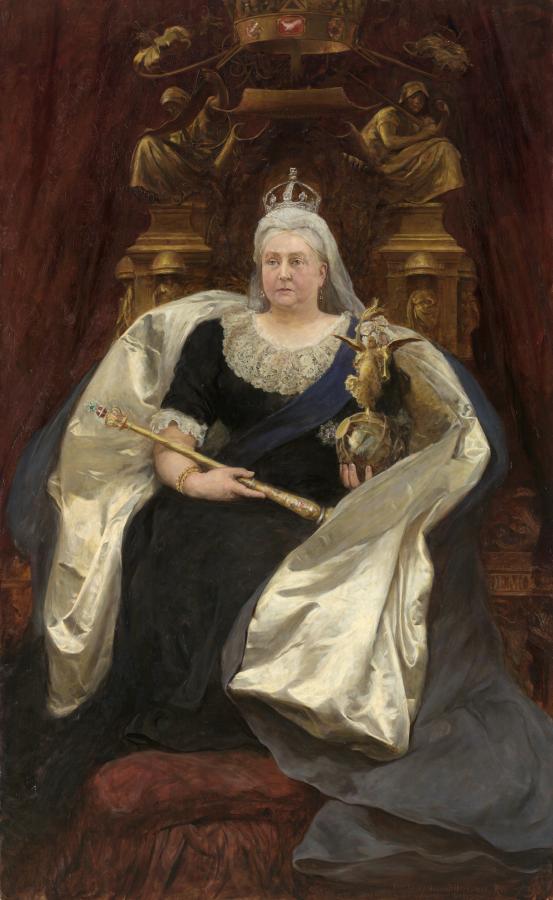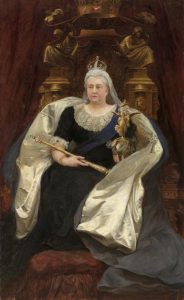 Herkomer, Hubert von (1849-1914)
Queen Victoria (1891)
Oil on canvas, 239 x 148.6 cm.
Purchased, 1892
National Gallery of Victoria (p.397.2-1)
This classic image of Queen Victoria in her mature pomp is described in NGV 1894 as based on "Gilbert's statue of the Queen erected in 1887 at Winchester."
In 1894, it presided over the Vestibule of the Public Library, where the etchings by and of Queen Victoria and her family, donated by the monarch in May 1893, were also displayed.
By 1905, it had been relocated to the Stawell Gallery, where it was hung on one end wall (general view reproduced in the NGV catalogue published in that year).
See linked entry on Herkomer, whose major contribution to the pre-Felton NGV was as an advisor, especially in relation to the etchings acquired in 1891-92.
Refs.
AR 1892, p.23; NGV 1894, p.69 (III.Vestibule, no.13); NGV 1905, p.52 (II.Stawell Gallery, no.63; ill.) [£945] 
For this work and its context, see also Vaughan "Queen Empress" (2013): refer Bibliography for details