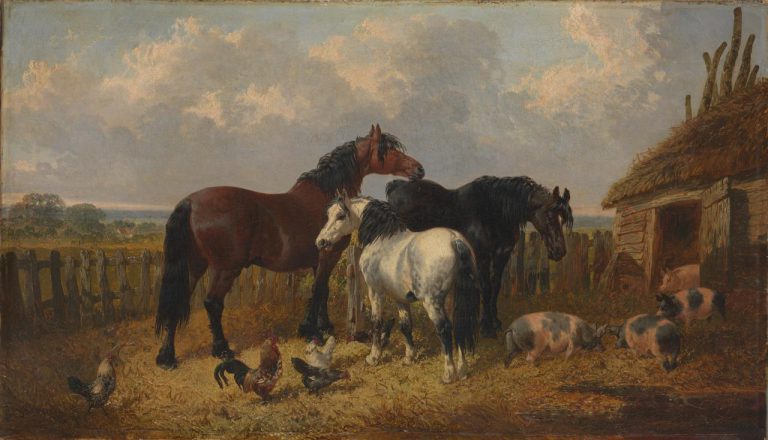 Herring, John Frederick, Junior (1820/21-1907; English)
Horses and Pigs (c.1864)
Oil on canvas, 36.5 x 61.5 cm
Purchased, 1864 (advice of Charles Eastlake)
National Gallery of Victoria (p.300.16-1)
This barnyard scene, exhibited at the Royal Academy in 1864, was among the first paintings bought for Melbourne, and was apparently a popular work during the collection's early years.
The artist was the son of John Frederick Herring, Senior (1795-1865), two of whose equestrian paintings were acquired for the NGV after 1905.
As Ann Galbally notes, the painting was initially mistaken for the work of the artist's better-known father, whose style it resembles; it was still listed as Herring Senior's work in the 1894 and 1905 NGV catalogues, and only attributed correctly some years later.
Refs.
NGV 1875, p.27; NGV 1894, p.71 (IV.McArthur Gallery, no.2); NGV 1905, p.82 (III.McArthur Gallery, no.2; ill.) [£30] 
See also Galbally The First Collections (1992), pp.45-6 (cat.no.7, quoting early Melbourne enthusiasm for this painting) and 61, n.37
For further details on Herring Junior, see Bénézit 7, pp.8-9; AKL72 (2012), pp.370-71 (with biographical dates as shown here); and http://en.wikipedia.org/wiki/John_Frederick_Herring,_Jr. (discussing issues regarding his date of birth)
For Herring Senior, see Wood Victorian Painters (1995), vol.2, p.90; Bénézit 7, pp.7-8 (still listing the present work as by Herring the Elder); AKL72 (2012), pp.369-70; Hoff (1995), p.148; and the NGV's online catalogue